Beauty Product Trends 2015
03 • 24 • 2015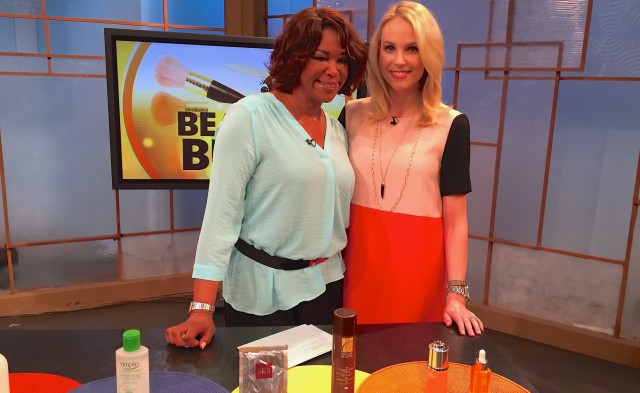 A big thank you to Great Day Houston (KHOU Channel 8 in Houston) for featuring me on their Beauty Buzz segment this past Monday! They asked me to discuss five beauty product trends that are the latest and greatest to hit the market. I had a ball chatting with host Deborah Duncan about some beauty product trends 2015 that are "disrupting" (don't you love the techie-speak?) our skincare, makeup and haircare products.
Here is the Great Day Houston clip so you can watch the full segment, or read on for my recap below:
http://www.khou.com/videos/entertainment/2015/03/23/25220865/
1) Olaplex Bond Perfector:
Olaplex is a recent discovery of mine that is a game-changer for anyone who frequently colors her hair (blondes, I'm looking at you!) or gets chemical treatments. Whether you are addicted to highlights or balayage (that you book on the BeautyNow app, of course), you are probably no stranger to the damage and breakage that come along with those beauty treatments. Now that I'm adding it up, I have been highlighting my hair consistently since 1996 (yikes!) and my high-maintenance hair is definitely weak and prone to split ends as a result.
But no more! Olaplex is a two-step, in-salon treatment that your colorist mixes in with your regular bleach or color. This bond strengthener prevents damage to hair during the coloring process, and leaves your hair healthy, shiny, and smooth for weeks. David, my hair guy at Studio A Salon in Houston, has been using Olaplex on me during my past two color treatments, and I don't think I can ever go back. He also tells me it is all the rage in LA with the celebrities, a fact that I find to be oddly compelling. The Olaplex treatment is an extra $35 dollars, but I totally believe it is worth it. Especially if celebrities say so.
2) Micellar Water:
Micellar water is a cleansing agent that has been widely used in France since the '90s as an alternative to the notoriously harsh Parisian tap water. Micellar water looks like a toner, but it is way more science-y than that. It contains tiny molecules called "micelles" that are suspended in liquid, and when applied to the skin with a cotton pad, the micelles act like magnets that attract and adhere to makeup particles, dirt and oil, sweeping them away with no irritation. As of the last week I've been using micellar water as a first step to remove my makeup before I cleanse with water (using my old standby Neutrogena Fresh Foaming Cleanser). Like a cleansing wipe, proponents say that micellar water does not need to be washed off with regular water, but I have been afraid to experiment to that extent. However I do find the micellar water to be less harsh than makeup cleansing wipes, and also more effective at removing makeup.
The most famous micellar water on the market is cult-favorite Bioderma Crealine H20, which inspired many a makeup artist and jet-setting supermodel to stock up at French pharmacies until it became available stateside. Now more mainstream companies like luxurious Valmont are picking up on the micellar water trend, as well as affordable drugstore options like Simple. I decided to buy the Simple Micellar Facial Cleansing Water at Target for about $6. Worth a try!
3) Sheet Masks:
If you follow @beautynowapp on Instagram, then you are familiar with my undying love and affection for sheet masks. Sheet masks are part of a larger beauty trend of borrowing from the multi-step skincare routines that are popular in Asian countries, especially South Korea. Sheet masks plump up the skin and are super-moisturizing because they prevent moisture from evaporating from the skin, and help other products to penetrate the skin more effectively. My favorite sheet mask to get glowy, poreless skin is the SK-II Facial Treatment Mask (click here for my full product review), but I also like the $6 Sephora Pearl Mask (full review here).
4) Dry Conditioner:
So we've all heard of dry shampoo, a spray or powder that you spray at your roots to soak up oil between shampoos. I mean, who washes her hair everyday anymore? But have you ever noticed how on day 2 or 3 the ends of your hair start to look a little dry and crispy? Well, now there is dry conditioner, designed to be sprayed on your mid-shaft to ends to add back a little shine and condition your hair. I tried the Oscar Blandi Pronto Dry Conditioner Spray, and it did not weigh down my fine hair. I've also heard good things about the Oribe Soft Dry Conditioner Spray.
5) Facial Oils:
Facial oils have been a trend for a year or so (like the fabulous La Prairie Ice Crystal Dry Oil or Josie Maran Pure Argan Oil), but now affordable drugstore lines are getting in on the trend. Although it might seem counterintuitive, the right facial oil can be used on even oily skin. In fact, oily skin is often a result of dehydration or overstripping of the skin, which prompts your skin to overproduce oil to compensate. Have you ever noticed that you get super-shiny/oily in the dehydrating airplane cabin air? Exactly. For facial oil at a fraction of the La Prairie price, try the new Loreal Age Perfect Glow Renewing Facial Oil. Or my mom swears by good ol' BioOil (which is a rich oil marketed to prevent scars and stretch marks!)
xoxo,
@beautynowapp
You May Also Like