I Bought All The Charlotte Tilbury Makeup
08 • 29 • 2018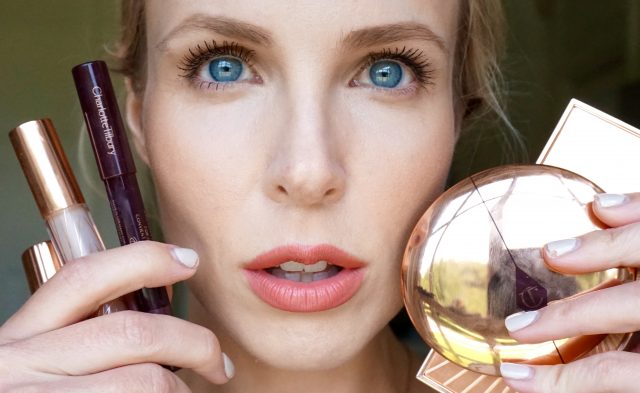 More so than any other makeup line, I'm constantly getting reader questions about Charlotte Tilbury. Is it as good as everyone says it is? Is it really worth the high price tag? To solve these burning questions, I spent $500 on Charlotte Tilbury, trying almost every single item in the line. Find out what the best Charlotte Tilbury makeup products are!
Disclosure
Nordstrom paid me a flat fee to write this post. I accepted this particular opportunity because I had complete freedom to choose the topic and bought all the products with my own money. It was my own hare-brained idea to spend a gazillion dollars on one brand of makeup. Since Nordstrom is one of the few retailers that carries Charlotte Tilbury, I thought it would be an ideal opportunity to compare almost every single item from her makeup line. Also because of Nordstrom's generous return policy, I will be able to return the items I don't love.
This post contains affiliate links which means I make a small commission if you click on a link and buy something. Now, on to the post!
Color Chameleon Eyeshadow Pencil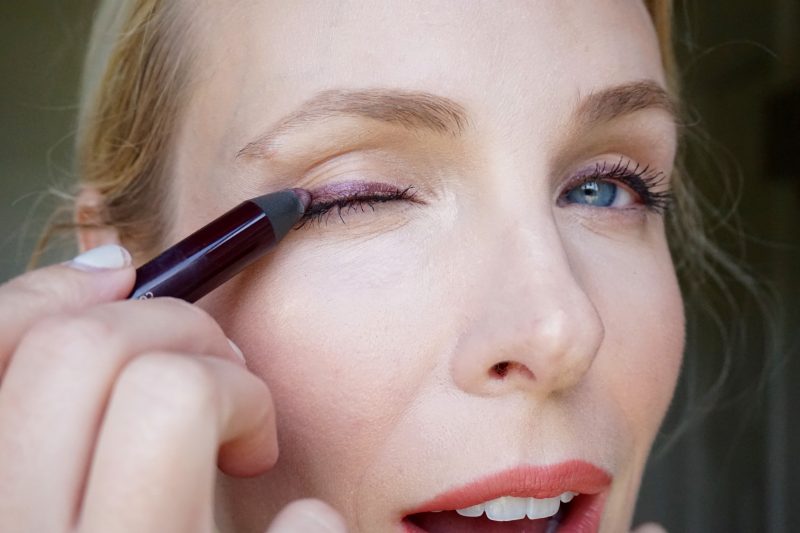 The Color Chameleon Jumbo Eyeshadow Pencil in Champagne Diamonds was the first Charlotte Tilbury product I ever purchased. The creamy, reflective pencil is perfect for a quick line under my eyes and to brighten my inner corners.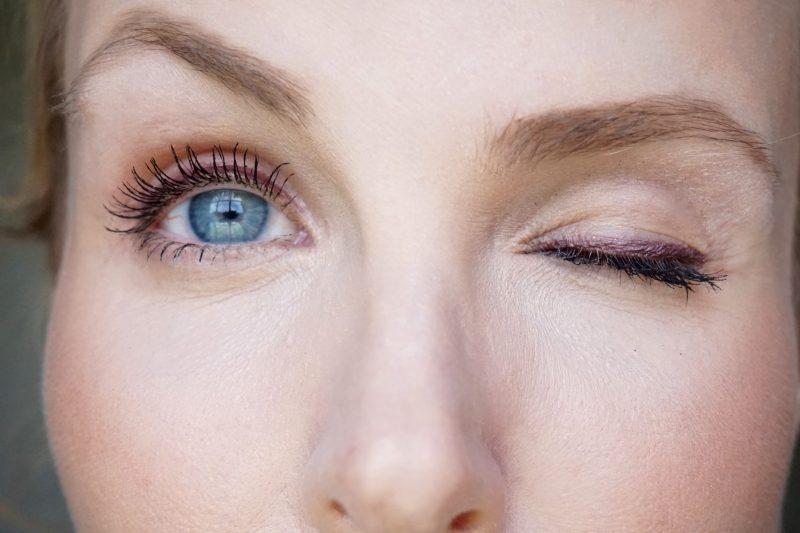 Later I spotted a friend at a party with the most fabulous shimmery, smokey eye shadow situation, and she told me it was the Color Chameleon in Amethyst Aphrodisiac. It is purply perfection! Do a quick, thick swipe of the Amethyst Aphrodisiac, and then a thinner black line closer to your lash line (with a liquid liner or gel liner), top with black mascara and you have the perfect nighttime look! So easy and glam.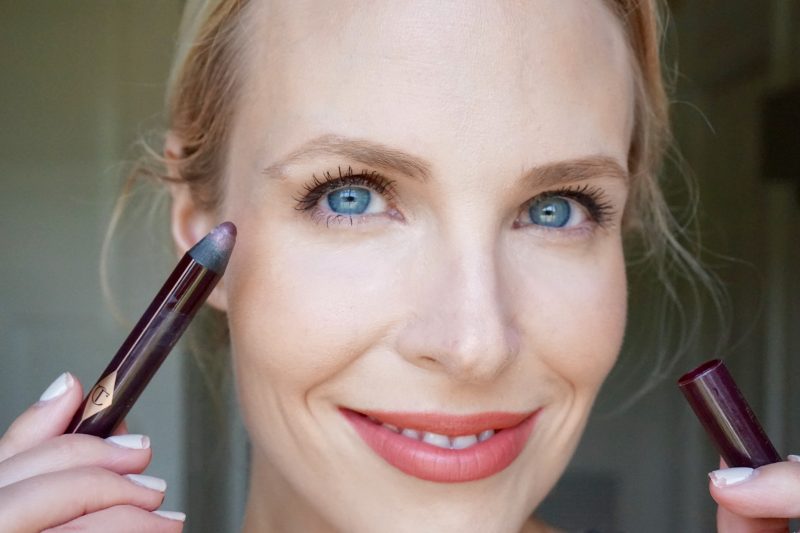 The Amethyst Aphrodisiac shade accentuates blue or green eyes without being as harsh as a full-on black smokey eye. Highly recommend the Amethyst pencil.
Pretty Glowing Skin Palette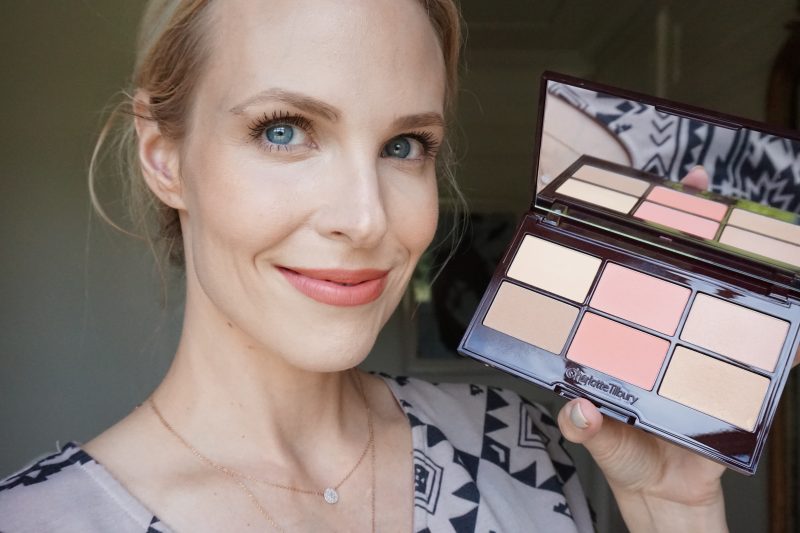 I bought the Pretty Glowing Skin Palette during the Nordstrom Anniversary Sale but it is still available. I'm usually not a fan of palettes, but this one is a great value ($153 value for $75) and is a great way to dip your toe into Charlotte Tilbury if you want to try more of her products. Notably it contains her cult-fave pressed powder (more on that below) in Shade #2, and maybe my favorite blush EVER, the top one, in shade Pretty. The blush is SO perfect- adds a slight illumination and highlight with no visible shimmer. Perfection. I'm a bit concerned that this shade of blush does not come in her normal blush line, but I'll worry about that later when I hit pan on the palette.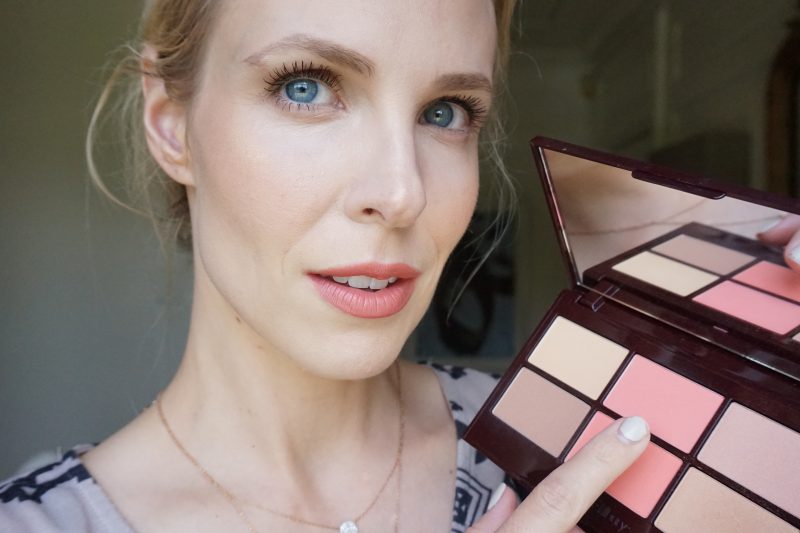 I had hoped that the bronzer and highlight in the palette would be the same as the Filmstar Bronze and Glow. It is similar, but slightly darker and just not the best bronzer ever like the Filmstar Bronze and Glow.
Filmstar Bronze and Glow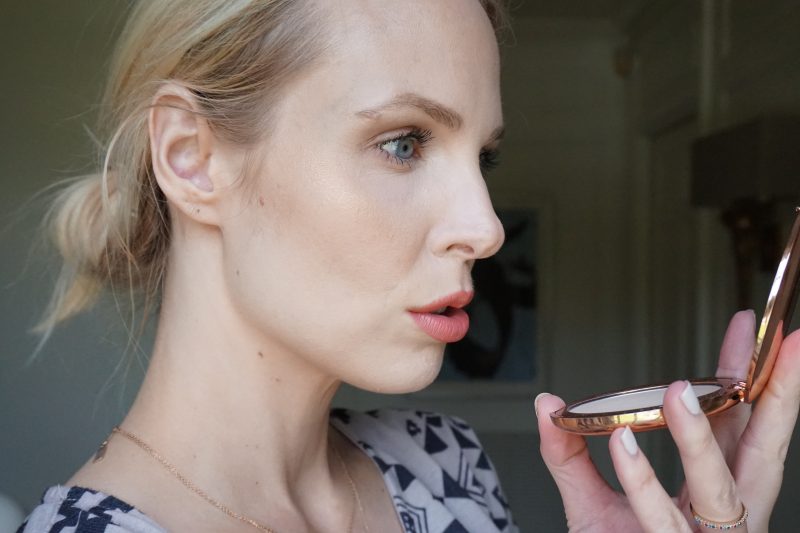 A million bloggers can't be wrong: the Filmstar Bronze and Glow may just be the best bronzer on the planet. I thought I had found the perfect bronzer- I was using the It Cosmetics Ombre Bronzer, but I only sweep my brush on the top, lighter part of the Ombre. Lo and behold, the Filmstar Bronze is just like the top lighter color of the It Cosmetics, and also comes with an awesome highlighter! I think my top highlighter ever is still Becca Shimmering Skin Perfector in Champagne Pop, but I like the highlighter in the Bronze and Glow nearly as well. Enough that I don't have to lug a separate highlighter with me when I travel. This bronzer is for sure a keeper! Not surprisingly I use the "Light" shade, but Filmstar Bronze and Glow also comes in "Medium". I highly, highly recommend Filmstar Bronze and Glow to create the look of killer cheekbones!
Hollywood Flawless Filter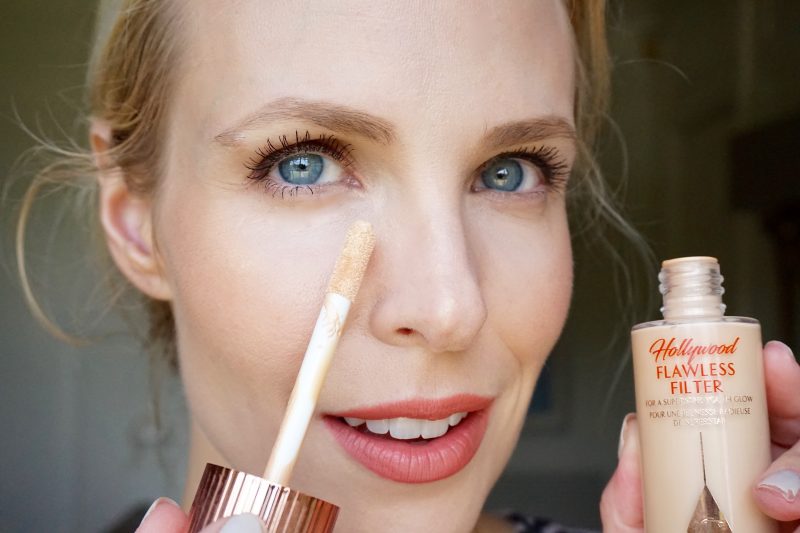 I think I'm alone here, but I can't quite figure out Hollywood Flawless Filter. Several bloggers I follow and personal friends of mine swear by this product to make them look more glowy and alive. It has a big doe foot applicator (similar to Tarte Shape Tape), and is best described as a shimmery concealer. But it does not have enough coverage to be a concealer, and I generally prefer powder as opposed to cream highlighters on my cheekbones.
On me, the Hollywood Flawless Filter just becomes an extra layer of makeup that doesn't really have a function. I'm going to keep experimenting with it, but for now, I just don't get it.
Wonder Glow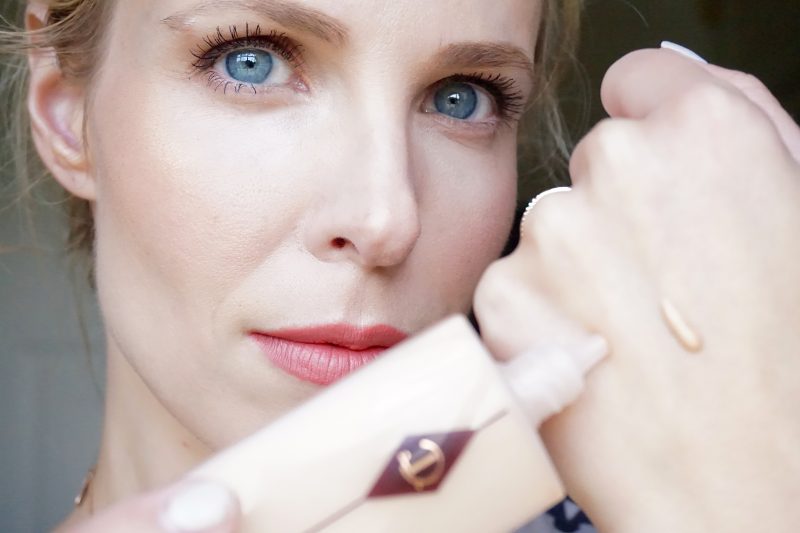 Wonder Glow is a radiant primer that can be worn alone or under makeup. I find it to be very similar to Becca Backlight Priming Filter or Laura Mercier Radiance Foundation Primer. I did not expect to like the Wonder Glow because 1) I already have a primer I like and 2) I did not think it would have enough coverage to wear without foundation on top.
I was completely surprised the first time I put Wonder Glow on for date night- I looked super glowy and with Nars Radiant Creamy Concealer under my eyes and Hourglass Vanish Stick Foundation in shade Shell dabbed around my nose and chin to cover redness, I looked completely "done" and glowy for a night out. I would not recommend wearing it alone during the day because it does not have SPF, but if you are having a good skin day, this is a great foundation alternative.
Airbrush Flawless Finish Powder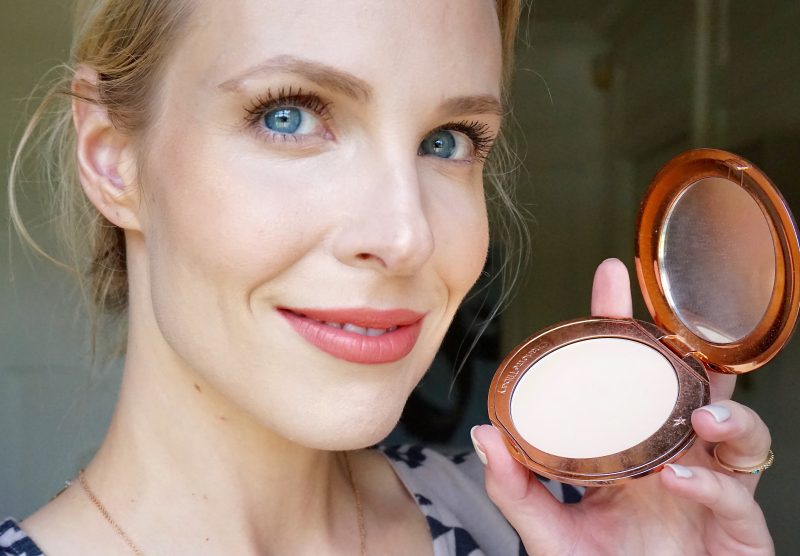 I had absolutely no desire to try a new powder because I was perfectly happy with the Hourglass Ambient Lighting Powder in Ethereal Light. I had repurchased that several times and had decided it was the best powder on the market to give you that glowy, filter-like effect on your face.
The Charlotte Tilbury salesgirl told me I should really try her Airbrush Flawless Finish Powder because it is one of the Top 5 selling powders in the world. And she was right! The Charlotte Tilbury powder is amazing and blurs pores and gives an illuminated effect. Seriously, throw out whatever powder you are using and buy the Airbrush Flawless Finish! FYI it runs a little dark/yellow, so if you are in between shades, I would go lighter. I wear shade 1 Fair and the 2 Medium (which is the powder included in the Pretty Glowing Skin Palette) is too dark on me.
Collagen Lip Bath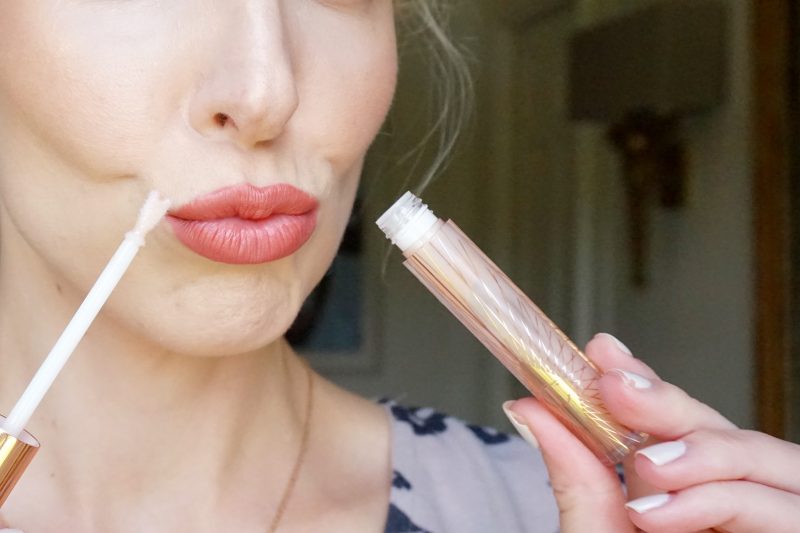 Collagen Lip Bath is a clear, glossy lip plumper (the kind with the tingly, bee sting feeling, similar to the Buxom glosses). For like two glorious minutes, this gloss makes me feel like my lips are pouty like Rosie Huntingdon-Whiteley's. The marine collagen in the formula does do a surprisingly good job at moisturizing. But the glossiness does not last long enough for me, and I feel like you would go through a $40 tube of this pretty quickly. The Collagen Lip Bath is nice, and I will use up this tube, but I will probably not repurchase because there are other cheaper options on the market that create the same plumping effect.
Magic Foundation
One of my blogger friends, So Heather, swears by Charlotte Tilbury's Magic Foundation. I tried it when I got my makeup done at the Charlotte Tilbury counter, but it did not seem to have as much coverage or pore-minimizing perfecting power as my current fave foundation, Laura Mercier Flawless Fusion (read my full review here). At $44 I think it is reasonably priced for a luxury foundation, but I had already spent so much that I passed on the foundation. Perhaps Magic Foundation warrants more investigation and an at-home try on, but my first impression is that it is nice but not my favorite.
Full, Fat Lashes
I did not purchase the Full Fat Lashes Mascara but I tried it when I got my makeup done at the Charlotte Tilbury counter at Nordstrom. I'm not a fan of fat, big mascara wands, and the formula did not seem to add any length to my lashes. It also does not have the curling power of Cover Girl Super Sizer or Benefit Roller Lash that allows me to skip using a lash curler. If you like big mascara wands like Diorshow, then maybe you will like Full Fat Lashes. But it was not for me. Pass!
Hot Lips Lipstick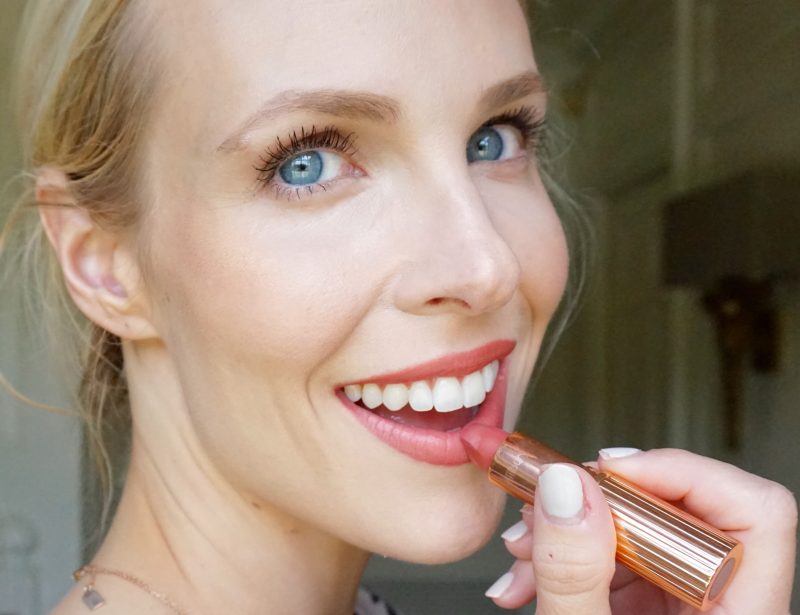 Trust me, I did not want to like a $40 lipstick. But the Hot Lips lipstick in Kim KW is truly worth the price and is my current favorite lipstick ever. The formula has a slight sheen that makes your lips look better, and the pale pink nude of Kim KW brightens my whole face. If you aren't as fair skinned as I am, I would recommend trying the shade Bitch Perfect. I also own the Matte Revolution Lipstick in Super Cindy which is a great, non-drying formula is a 90s-inspired pink nude (and is what I am wearing in all the photos for this post).
Pillow Talk Liner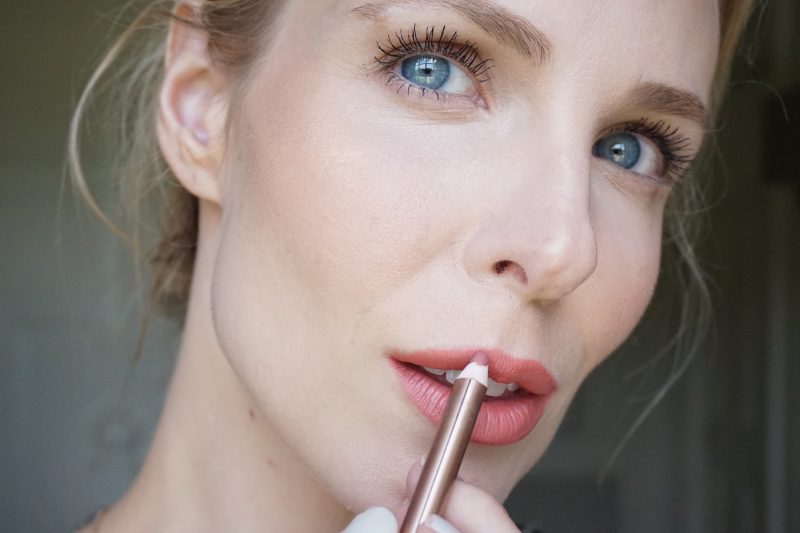 I would say Charlotte Tilbury's best-selling Pillow Talk Lip Cheat Liner is my second favorite lip liner ever. I like the smooth formula that allows you fill in your whole lips, and the Pillow Talk shade is a nude that doesn't read brown and would work on pretty much everyone. I still like Urban Decay lip liner slightly better because of the light nude-pink color selection (I love shades Native and Unicorn). But my Pillow Talk lip liner is definitely in the rotation.
Concealers
Charlotte Tilbury currently makes two concealers. The Mini Miracle Eye Wand Dynamic Duo is a double-ended wand with eye serum at one end and concealer/brightener on the other end. It did not have enough coverage for my under eyes and I'm still loyal to Nars Radiant Creamy Concealer for my dark circles.
The Retoucher Treat and Conceal stick (a concealer wand with a brush applicator, like YSL Touche Eclat) seemed to have more promising coverage, but they were out of my proper shade at the store. I see they are only carrying the three darkest shades online, so I wonder if they are discontinuing this product to make way for Charlotte Tilbury's new concealer release, the Magic Away Liquid Concealer. I'm dying to try the Magic Away, but for now it is only available on Charlotte Tilbury's own website, and I much prefer the ease of Nordstrom's delivery and generous return policy! I also want to try her new loose powder, Genius Magic Powder, but I will wait on both of those until Nordstrom carries them.
What to Buy?
To sum it all up, I think my top must-buy makeup products (in descending order of favoriteness): 1) Airbrush Flawless Finish Powder; 2) Filmstar Bronze and Glow; 3) Hot Lips Lipstick (if you have my coloring, you MUST buy Kim KW); and 4) Color Chameleon Eye Shadow Pencil in Amethyst Aphrodisiac.
Let me know if you have some other favorite Charlotte Tilbury products I need to try!
xoxo,
You May Also Like