Changing My Sunscreen Game
06 • 25 • 2017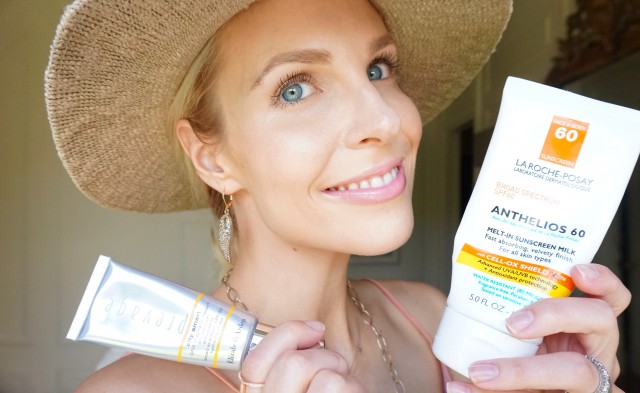 Don't get me wrong- I still love my trusty Elta MD UV Clear sunscreen. But summer travel and lots of time outdoors inspired me to do further SPF research to find out the best sunscreen 2017 and to change up my own sunscreen regimen a bit. Today I'm discussing sunscreens for every summer situation and also analyzing the infamous Consumer Reports article that recently called into question the efficacy of natural sunscreens altogether:
For That Dry Mountain Air: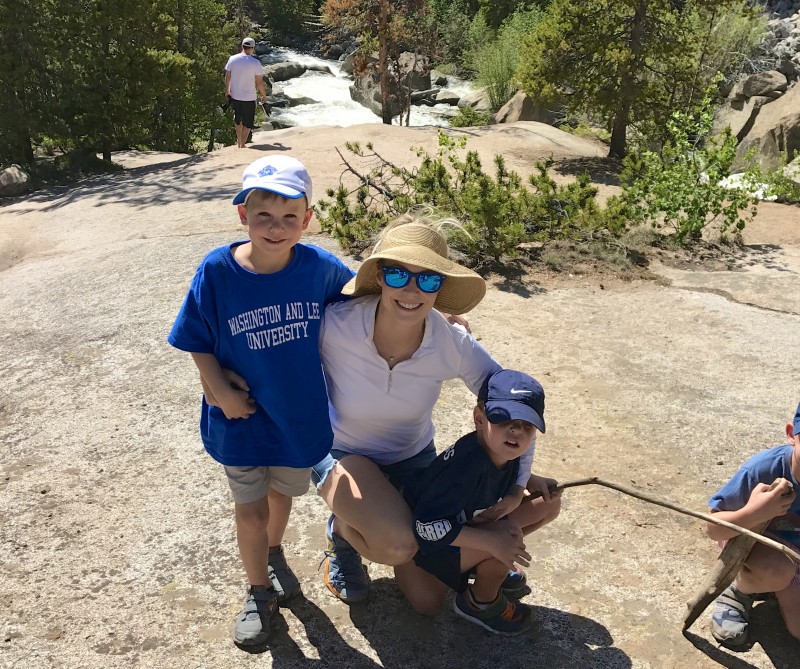 For those of you who told me the Elta MD UV Clear is not enough moisturizing enough– the Prevage City Smart Hydrating Shield SPF 50 is your jam. Not only is it super-hydrating, but it also contains a patent-pending anti-pollution complex that takes care of your SPF and antioxidants in one step. Dermatologists insist we need an antioxidant (I've been using Drunk Elephant C Firma Serum) in addition to SPF everyday to protect against environmental factors like pollution that cause 55% of aging. Prevage City Smart already has those antioxidants built in, so you don't need the serum step! And who doesn't want to simplify her routine during summer? One fewer bottle to travel with.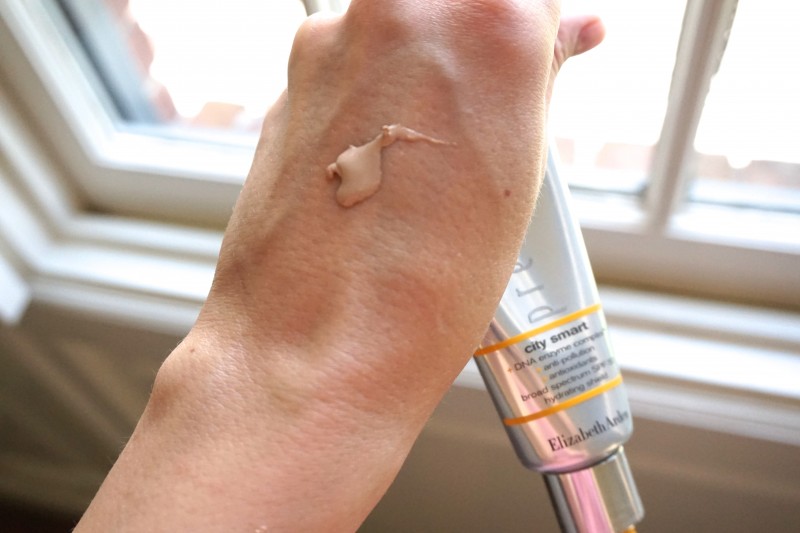 The Prevage City Smart is tinted, but it does not show up even on my beyond-pale skintone. It goes on like a dream under makeup, and makes my skin feel completely hydrated, plumped, radiant and firm. LOVE. During my recent trip to the drier climes of Colorado, the Prevage was perfect! My skin never felt tight like it usually does there. For extra moisture, I would suggest layering Mizon Snail Cream underneath the Prevage CitySmart, followed by the It Cosmetics CC Cream Illumination. If that combo doesn't keep you hydrated and soothe your dry skin, I don't know what will.
For Outdoor Sports:
I recently took up tennis, an amusing ball sport that apparently most of you have been playing for the better part of your lives. In an effort to catch up I've been spending a lot of time on the court, sweating profusely in the Houston humidity, in my usual Elta MD UV Clear, topped with It Cosmetics CC Cream Illumination. But I started breaking out, so I stopped playing in makeup and started wearing only my Elta MD UV Clear. My breakouts cleared up immediately, but my melasma/brown spots got noticeably worse! Despite also wearing my San Diego Hat Company Visor while playing, much to the detriment of my serve. This anecdotal evidence leads me to believe that perhaps the Elta MD is not protecting as well as I think it is.
So I went in search of the best sunscreen on the market for when I play tennis. I literally do not care if I look like I am wearing a white mask while I play- my only requirement is zero sun penetration on my face. Some of you may remember I wrote an in-depth sunscreen post a couple years ago about how physical sunscreen (e.g. zinc oxide & titanium dioxide) provide better broad spectrum protection because they do not lose effectiveness after two hours like chemical sunscreens do (e.g. octinoxate, avobenzone- most of the sunscreen ingredients you find in the drugstore). However Consumer Reports and other scientific studies later revealed that many of the mineral sunscreens do not in fact have the protection they claim to. For instance, some natural sunscreens claimed to have an SPF of 50, but when tested they only had SPF 8! I was nearly traumatized after reading that. Consumer Reports said:
"In our tests over the years, so-called "natural" or mineral sunscreens—those that contain only titanium dioxide, zinc oxide or both as active ingredients—have tended to perform less well than those that have chemical active ingredients, such as avobenzone. None of the mineral sunscreens in our tests this year did well enough to make our list of recommendations."
Of course Consumer Reports does not address the breakdown of chemical sunscreens after being exposed to light two hours; instead they seem to be testing sun protection immediately after application (and "soaking in a tub" for some unspecified period of time, presumably to test the water resistance of each sunscreen). Essentially it is a choice between two evils: either you slather yourself and your loved ones with chemicals every two hours, or risk skin cancer and sun damage by using natural sunscreens that may last longer, but may also be less effective to begin with. So this summer, I choose chemicals.
Here's a snippet from the Consumer Reports article where they tested 64 sunscreens and ranked them by effectiveness:

I just started using the La Roche Posay sunscreen that Consumer Reports' said was the #1 most effective (with a perfect score of 100). You can find it at some Targets, but I ordered mine about $11 cheaper on Amazon Prime here. If you venture to the store to buy it, beware that there are about 712 varieties of La Roche Posay sunscreen in identical packaging, and Consumer Reports tested several of them and not all were as effective as this particular one. Look for keywords "Melt-In" and "Milk." Gross. But whatever works.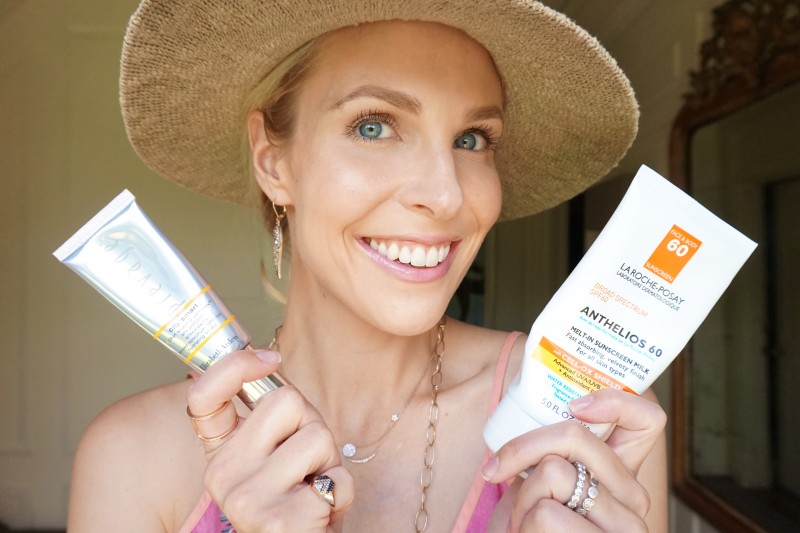 Unforuntately Consumer Reports did not test Elta MD UV Clear for effectiveness, but they did test the Elta MD UV Continuous Aero Spray (Zinc Oxide 9.3% and Octinoxate 7.5%), and it scored an abysmal 17 out of 100! I have distrust for spray sunscreens in general, so I would like to think my trusty Elta MD UV Clear would have fared better, but the two varieties have almost the exact same concentrations of ingredients (UV Clear has Zinc Oxide 9%, Octinoxate 7.5%). Basically we need to conduct an independent inquiry into the efficacy of Elta MD UV Clear, the Prevage City Smart, the It Cosmetics CC Cream, and other products I recommend. Any idea how I would go about that? Do I need a chemist? A research grant?
For My Body:
The La Roche Posay is pricey, so for my body I also purchased Consumer Reports' #2 pick, Equate Sport Sunscreen SPF 50, which scored an impressive 99. Equate is the Wal-Mart version of "Compare to Coppertone Sport SPF Lotion." (I ordered my Equate sunscreen here because I do not have a Wal-Mart near me). Interestingly, Consumer Reports tested the real Coppertone Sport and it only scored a 68! The ingredients of the two are slightly different as well- it just goes to show you that generic products are not always exactly the same as their name-brand counterparts, and sometimes the generic can outperform!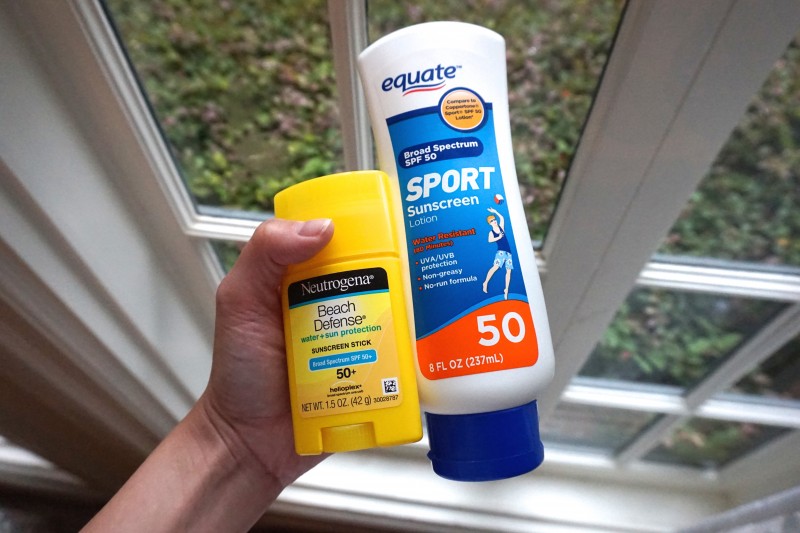 I have also been putting the Equate all over my kids' bodies and faces first thing in the morning, and then doing another layer of sunscreen stick on their noses and cheeks right before I send them off to camp for the day. I just realized that the stick I have been using, Neutrogena Beach Defense Water + Sun Protection Stick, only scored a 76 and did not meet Consumer Reports' "Recommended" threshold. Generally the sticks did not perform as well as traditional creams, with the highest stick rating being 85.
I highly recommend that you check out the full Consumer Reports article online (it will cost you $7) to find out how your favorite sunscreen measures up.
My Routine, In Summation: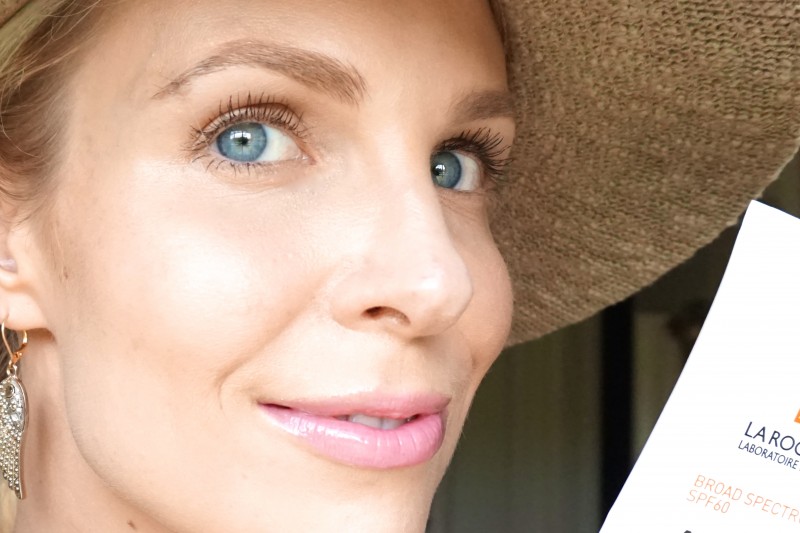 I realize there's a lot of new information here, and some of it contradictory to what I've recommended before on the blog. I'm not a dermatologist or a researcher, and I am frustrated by the lack of uniformity and ways for consumers to verify the SPF in products they are relying on to keep them safe. So I'm fumbling along and learning just like you. But to sum it up, my current SPF routine is this:
For a regular day (not playing tennis or spending a great deal of time outside), I use Elta MD UV Clear with my It Cosmetics CC Cream Illumination on top. The Elta MD is just so comfortable to wear under makeup, and between the physical and chemical protection of Elta MD, plus the physical SPF 50 of the It Cosmetics (plus color particles in foundation provide a bit of additional protection), I feel like my skin is protected enough for everyday.
On days I play tennis, I wear a thick layer of the La Roche Posay with no makeup on top (to prevent breakouts). After I finish playing, I keep It Cosmetics Confidence in A Compact SPF 50 in my purse. It is the solid compact version of my usual CC Cream in a tube and is easier to dab on on the go to get great coverage and additional SPF protection.
When I'm traveling to drier climates (which is basically anywhere outside the tropics of Houston), I wear the Prevage City Smart, with It Cosmetics CC Cream Illumination on top.
And now I always wear a hat outside, even just walking across the grocery store parking lot. Either my San Diego visor for outdoor sports activities (or hardcore park time with the kids), or a cute Panama hat.
xoxo,
@kathleenjenningsbeauty
You May Also Like