The Best Makeup Setting Spray With SPF
07 • 31 • 2015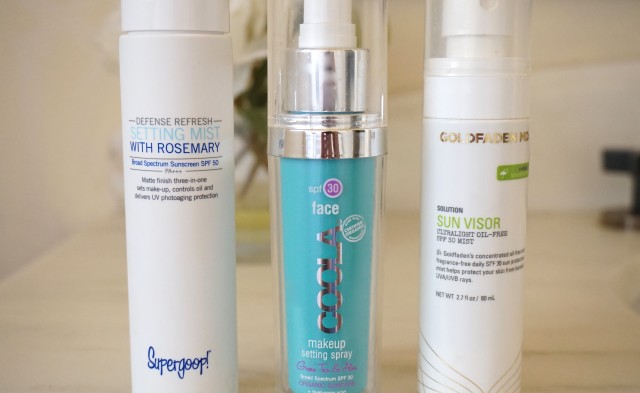 If you're a loyal reader, you might remember how I *almost* invented something a few months ago? No, I'm not talking about the BeautyNow app for instantly booking beauty appointments. I posted about an idea for a makeup setting spray, similar to cult-favorite Urban Decay All-Nighter Setting Spray, but that has a physical-barrier SPF in it. The impetus being the fact that dermatologists recommend you reapply sunscreen every two hours, yet there was no sunscreen spray designed specifically to be reapplied throughout the day without disturbing your makeup. After going on a Google deep dive to determine if such a product existed, I finally discovered Goldfaden MD Sun Visor Ultralight Sunscreen Mist that I reviewed in a full post here. Fast-forward a few months later, and other sunscreen companies have gotten wise to the trend, so now there are two new makeup setting sprays with SPF on the market. Let's compare Goldfaden MD Sun Visor with newcomers Supergoop Defense Refresh Setting Mist with Rosemary and Coola Makeup Setting Spray to determine once and for all, the best makeup setting spray with SPF: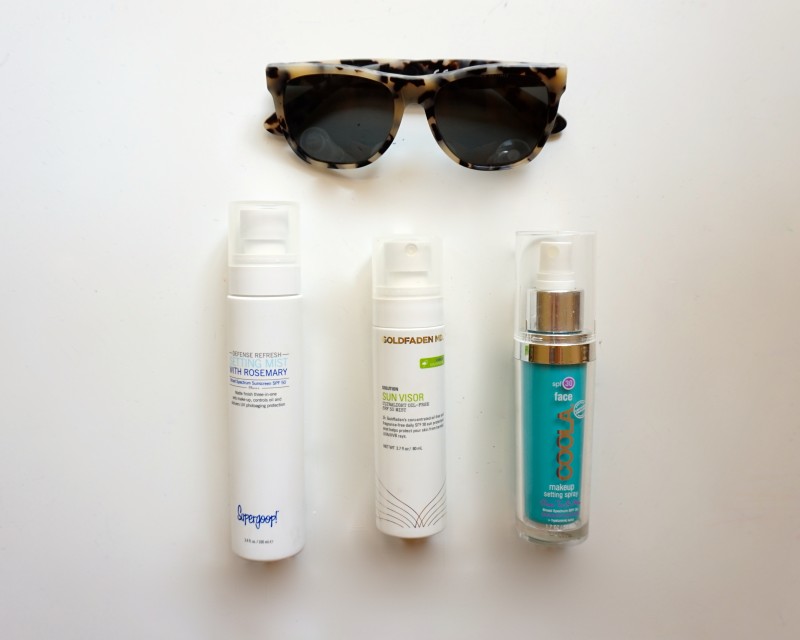 Supergoop! Defense Refresh Setting Mist with Rosemary ($28, 3.4 oz.)
This is my first sunscreen product from Supergoop!, an upscale line of sun protection available at Sephora. Beautifully packaged, you just feel chic whipping this minimalist blue and white bottle out of your pool bag. My impressions of Supergoop setting mist: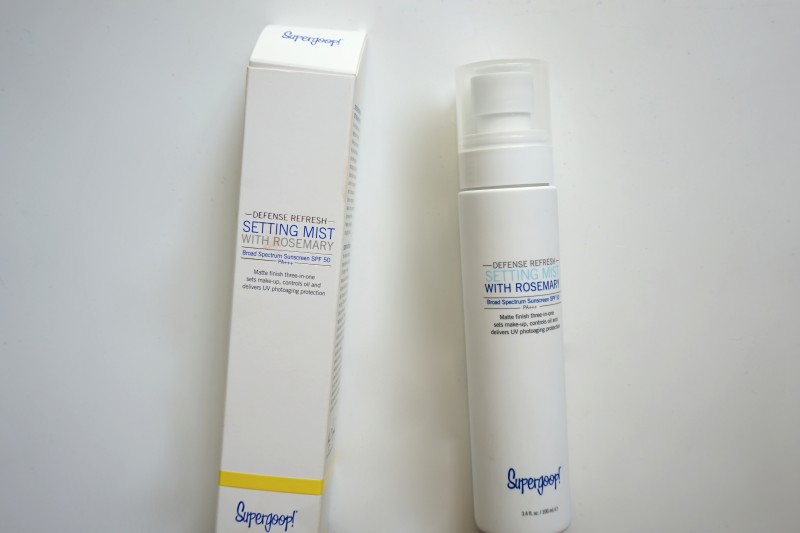 –claims to be a 3-in-1 weightless mist that "sets makeup, helps control oil and shine, and refreshes your defense against photo aging UV rays"
–has an SPF of 50 with only chemical blockers like Avobenzone, Homosalate, Octinoxate, and Octisalate. (FYI, physical blockers are much more effective sunscreens. You can read my post here to understand the difference between physical and chemical blockers);
–it is sulfate, paraben and oxybenzone free (oxybenzone is a chemical blocker that is believed to be potentially harmful, although I'm not so sure of the safety of all the other chemical blockers Supergoop used in place of oxybenzone);
–once you get past the overwhelming initial scent of alcohol being sprayed directly on your face, the rosemary and mint is cooling and refreshing. The first ingredient is alcohol, and it is very obvious. Ick.
–feels very sunscreen-y on your face. I agree that it is a weightless mist while you are spraying it, but you definitely feel a tight, icky sunscreen film on your face afterward. You know that aerosol spray sunscreen you use all over your kids at the beach? It feels EXACTLY like you sprayed that on your face.
–my mom tried it and even though her eyes were closed, she said it made her eyes burn for several minutes
–I had a full-on allergic reaction to this product! I used it several times a day for several days in a row, and I broke out with colorless, tiny bumps under my skin all over! My face was covered. They were not zits, but bumps like an allergic reaction. It was right before my vacation to Mexico and took about 4 days to go away. So annoyed.
–I wanted to like this product because Gwyneth Paltrow uses Supergoop, but this product is going straight back to Sephora. I need my $28 back.
Coola Makeup Setting Spray ($36, 1.7 oz.)
Coola makes great sunscreen products that are 70%+ certified organic. That also makes them crazy expensive. $36 for 1.7 oz.? The Coola Makeup Setting Spray is the most expensive of the bunch (the Goldfaden MD Sun Visor rings in at $36 for a slightly more generous 2.7 oz.). But in the name of research, I plunked down my hard-earned cash for all three of these products. My impressions of Coola Makeup Setting Spray: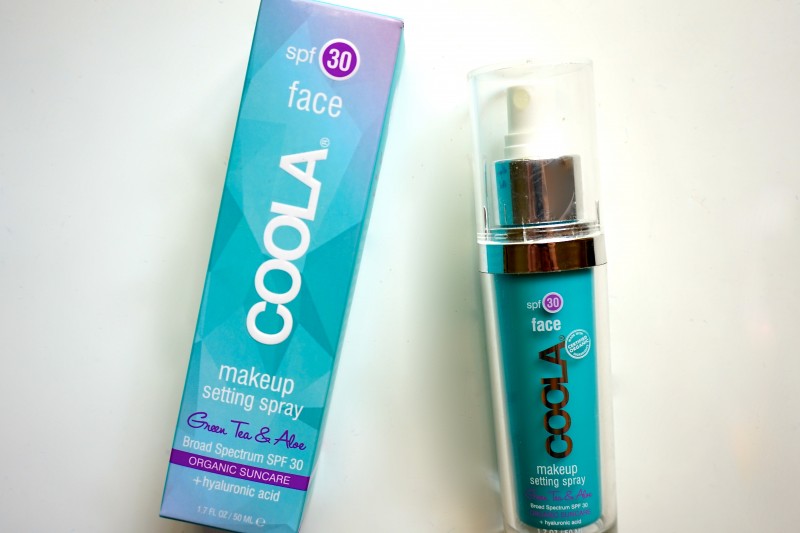 –almost identical to Supergoop in that it claims to be a "weightless, matte finish mist that protects…while keeping your makeup looking fresh all day."
–has an SPF of 30 (lower than I'd like), and contains the exact same chemical blockers as the Supergoop: Avobenzone, Homosalate, Octinoxate, and Octisalate.
–also contains cucumber and aloe vera extracts to help soothe and refresh skin, and hyaluronic acid to rehydrate skin;
–like the Supergoop, the Coola smells and feels overwhelmingly of alcohol. Ugh. The Coola stings even more than the Supergoop, but I will say that the gross sunscreen-y film is less apparent with the Coola vs. the Supergoop. The Coola also feels slightly less drying on my skin than the Supergoop.
–I did not break out in a rash from the Coola, which is strange considering they have the same exact sunscreen ingredients. I must be allergic to one of the inactive ingredients in the Supergoop. Maybe the rosemary or peppermint?
–the spray coverage of the Coola is more fine and well-dispersed than both the Supergoop and the Goldfaden MD. Still does not feel quite as fine as the coverage of my usual Urban Decay setting spray, or the Evian water spray.
–both the Coola and the Supergoop were total fails in terms of preserving makeup. They were not nearly as effective as the Urban Decay All-Nighter Setting Spray (are y'all using that? It REALLY makes a difference in how well your makeup holds up throughout the day!) I would recommend that you spray the Urban Decay after applying your makeup to set it, and then use the Coola for sun protection the rest of the day.
Overall Winner?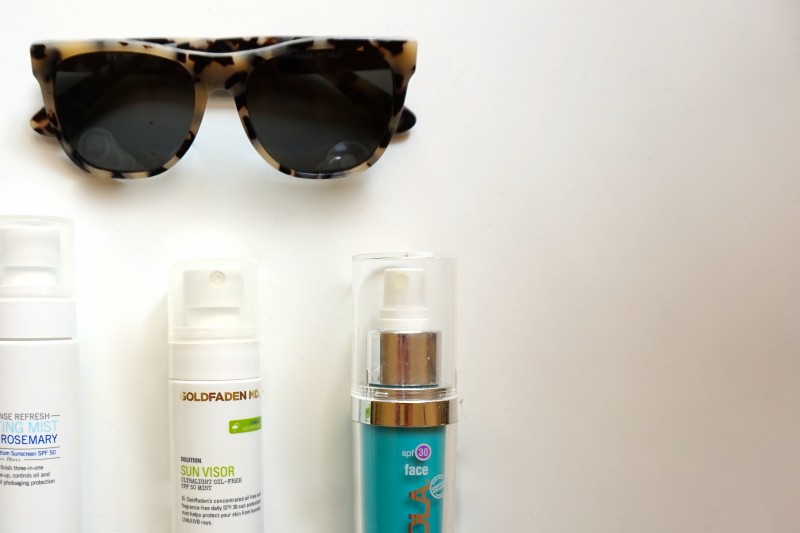 It's hard to say, because none of these sunscreen setting spray products is perfect. That said, I returned the Supergoop to Sephora, and have been using both the Goldfaden MD and the Coola on a regular basis. The Goldfaden MD is the best of all three because it contains physical blockers zinc oxide and titanium dioxide, which provide the most effective sun protection. My biggest problem with the Goldfaden MD is that the spray delivery system is not great, and I worry about how thorough the coverage is. It covers you with white spots (that totally disappear after a minute), but I wonder about my skin in between the white spots. Did they get covered also? And the Goldfaden MD pump gets clogged frequently, but that is probably a function of the natural physical blocker ingredients. But the Goldfaden has no alcohol and has had no bad effects on my sensitive skin- no clogged pores, no drying, no icky sunscreen feeling.
The Coola definitely makes me feel like I am getting better coverage on my skin than the Goldfaden MD. And since the Coola has not caused break outs or clogged pores, and the alcohol smell dissipates after a few seconds, I use this product by the pool too. I have been alternating the Goldfaden and the Coola so I make sure I'm getting even coverage and also the physical blocker sunscreen.
In my opinion, none of the three sunscreen sprays are effective as a makeup setting spray. I'm not sure what the magic juice is in Urban Decay All-Nighter that actually WORKS to preserve your makeup, but these sunscreen sprays don't have it. Basically what needs to happen is that Urban Decay should release an SPF version of the All-Nighter that contains no alcohol, and has a physical blocker SPF 100. But until then, my plan is to use the Coola Makeup Setting Spray and the Goldfaden MD Sun Visor Spray in tandem.
xoxo,
@beautynowapp
You May Also Like