My New Favorite Top Coat!
09 • 20 • 2015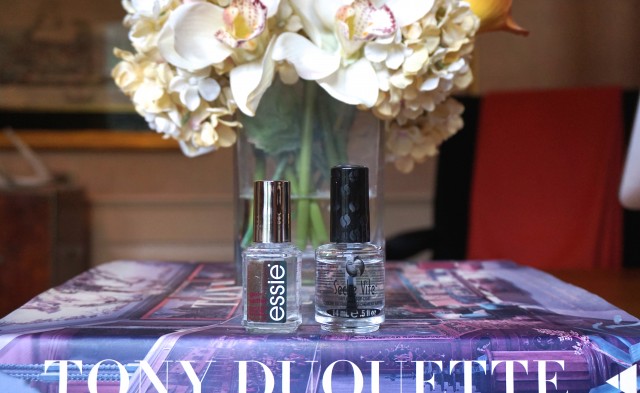 New favorite top coat alert! Considered by many nail enthusiasts to be the best top coat ever, I had been using Seche Vite Dry Fast Top Coat for years. And it was the BEST. Unfortunately I recently discovered that Seche Vite contains a harmful chemical that could cause serious reproductive harm (!). Luckily I found a safe top coat that is a perfect dupe for Seche Vite! Read on for my Essie Gel Setter review:
 
Today there are many brands of nail polish that claim to be safer because they are "3-Free" or even "5-Free"– meaning that they are free of the three most potentially dangerous chemicals traditionally found in nail polish, namely Dibutyl Phthalate (DBP), Methylene Glycol (or Formalin, a form of Formaldehyde), and Toluene. If you care to read a full discussion of why these chemicals are bad for you, check out this very informative blog post here.
I heard vague rumblings of nail polishes claiming to be free of bad chemicals, but I largely ignored them because that translated to me as "won't work as well." I'm kind of embarrassed to admit I didn't concern myself at all until I spotted a new warning on my longtime favorite top coat, Seche Vite. Seche Vite is soooo shiny, dries quickly, prevents chips…pretty much the best out there. I started using it around 2001 when I discovered it from a college roommate. I used it without worry throughout both my pregnancies. I was so devoted to this top coat that I even toted it with me to nail salons just in case they weren't using Seche Vite as their top coat of choice.
Fast forward to 2015, when I refilled my usual bottle of Seche Vite, and the box and bottle itself both sported a new, rather prominent warning:
"This product contains a chemical known to the state of California to cause birth defects or other reproductive harm."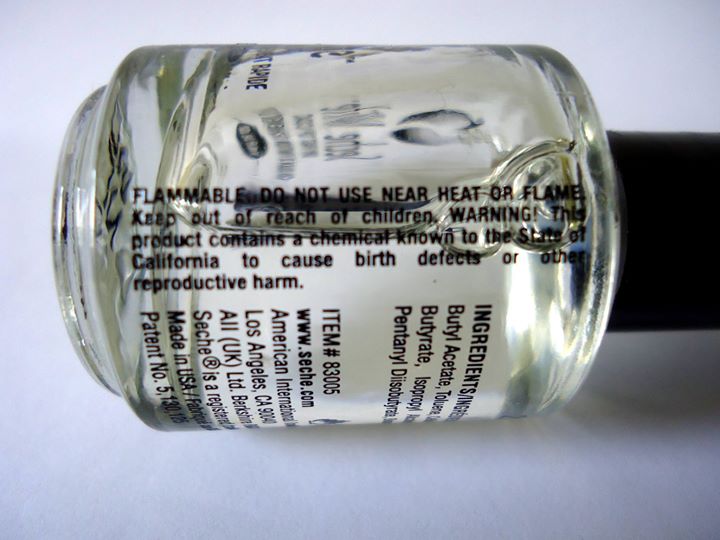 I'm sorry, WHAT?? I'm fairly certain this warning was not on my prior purchased boxes of Seche Vite. I felt like I just bought a pack of cigarettes. The lawyer in me was feeling very Erin Brockavich, angry that I had been loyal to this poisonous top coat for years. Ugh.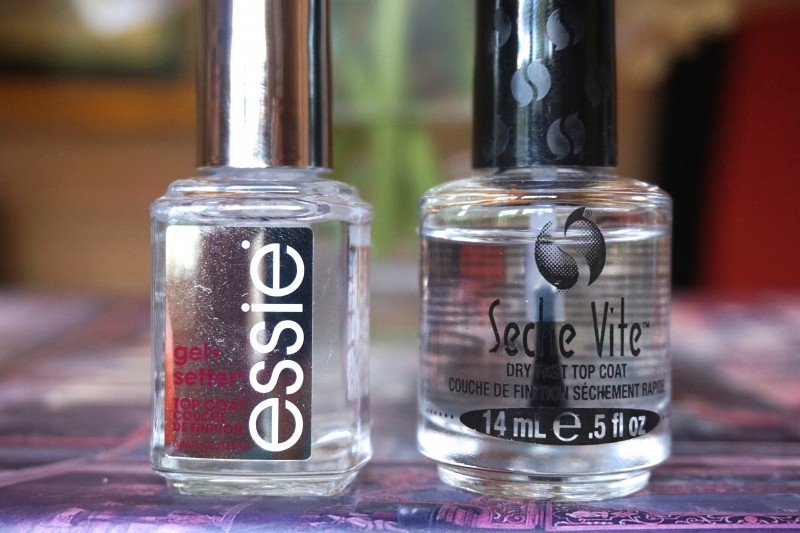 Essie Gel Setter Ingredients:
Ethyl Acetate, Isopropyl Alcohol, Butyl Acetate, Cellulose Acetate Butyrate, Acrylates Copolymer, Tremethyl Pentanyl, Diisobutyrate, Triphenyl Phosphate, Benzophenone-1, Dimethicone, CI 60725/Violet 2 (D175066/1).
Seche Vite Ingredients:
Butyl Acetate, Toluene, Cellulose Acetate Butyrate, Isopropyl Alcohol, Trimethyl Pentanyl, Diisobutyrate, Butoxyethanol, Dimethicone, Benzophenone-1.
As you can see, Seche Vite and Essie Gel Setter contain many of the same ingredients. However the Seche Vite does indeed contain Toluene, which is a harmful chemical that has been shown to have serious health effects on your brain, like impairing your ability to think clearly. A larger concern is that it could cause reproductive harm, like an increased risk of spontaneous abortions. Wow.
According to the Cosmeticsinfo.org website, the Seche Vite box must contain a warning about Toluene because of this California regulation:
"The California Safe Drinking Water and Toxic Enforcement Act of 1986 (Proposition 65) requires the Governor of California to maintain a list of chemicals "known to the state" to cause cancer or reproductive toxicity. Toluene is among the ingredients identified by the state of California under Proposition 65 for identification in labeling."
Anyway, if you own a bottle of Seche Vite, please throw it out immediately. There's a debate about whether the amount of Toluene present in nail polish is enough to pose a significant risk to human health, but let's not take chances here. I mean, I know your #manimonday needs to be on fleek, but I found a top coat that is a great dupe for Seche Vite top coat. I promise!
Enter new Essie Gel Setter. The brush is slightly narrower than the Seche Vite brush, but other than that they are identical in every respect. The consistency is exactly the same– kind of a thick goo, but not too thick. As soon as you brush it on, it sort of "melts" in to create a smooth, thick glossy surface, *almost* as good as Shellac. I tested Seche Vite and Essie Gel Setter by alternating them on every other finger, and they had the exact same wear time and chip resistance.
Here I am wearing Seche Vite on my thumb, third and pinky finger, and the Essie Gel Setter on the others. I did the opposite on my other hand. I'm wearing it over a new minky gray-purple I like for Fall, Mister Pookies from Aila Cosmetics: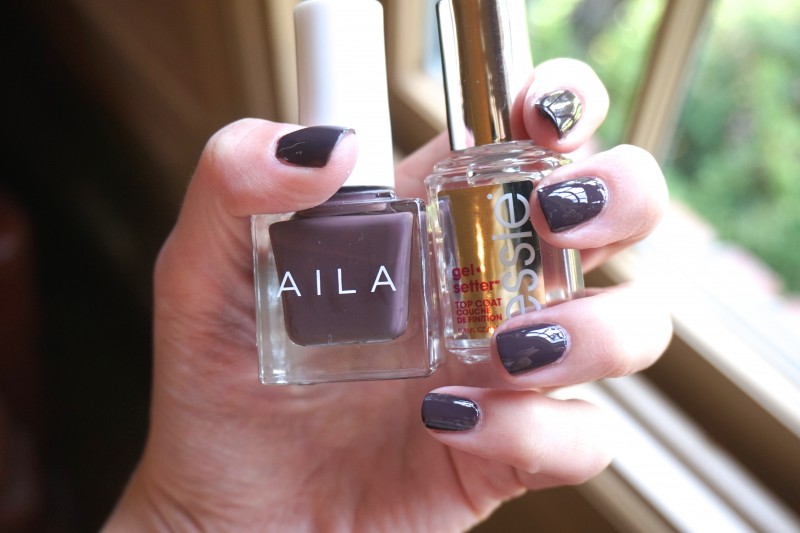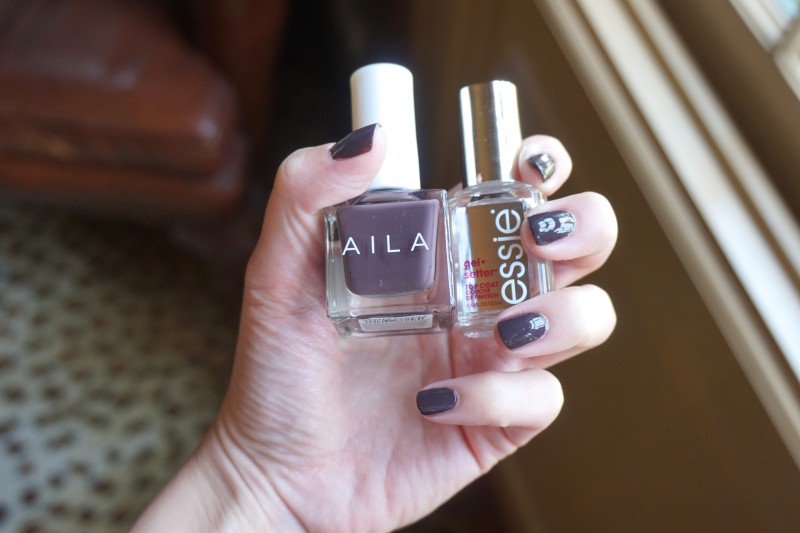 Here is Day 3 of the same manicure so you can see how plump and "gel like" the Essie Gel Setter is: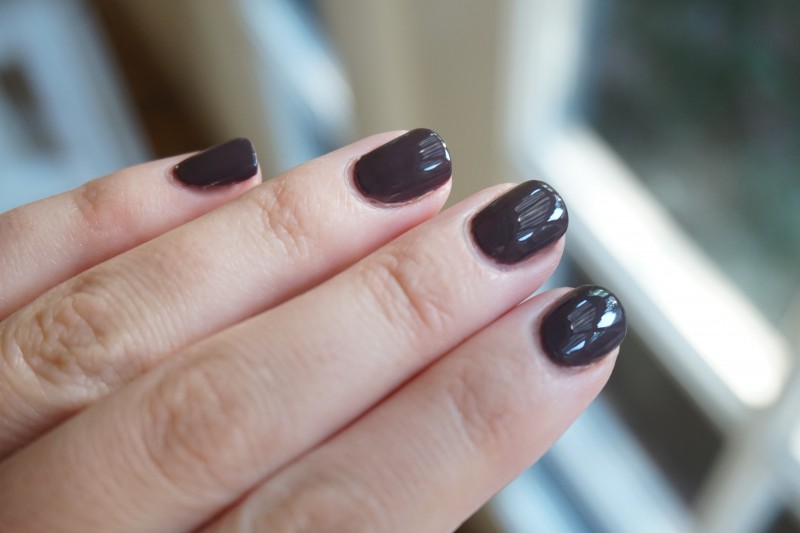 Here I am wearing Essie Gel Setter as my top coat over Christian Louboutin (fancy!) polish in Just Nothing. This particular combo of polish + Essie Gel Setter got me a solid six days of super-glossy, chip-free wear: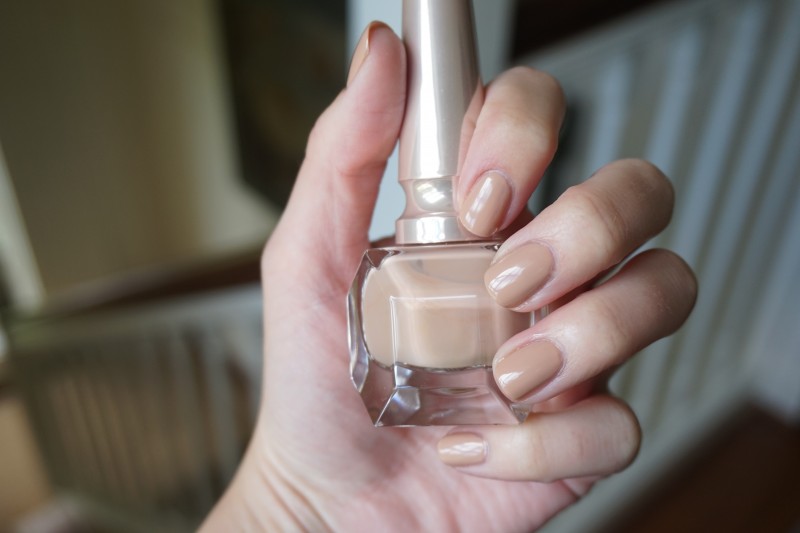 So there you have it– Essie Gel Setter is a perfect dupe for Seche Vite, and has been officially crowned my favorite top coat ever. With no potential hazardous side effects, which is always a plus.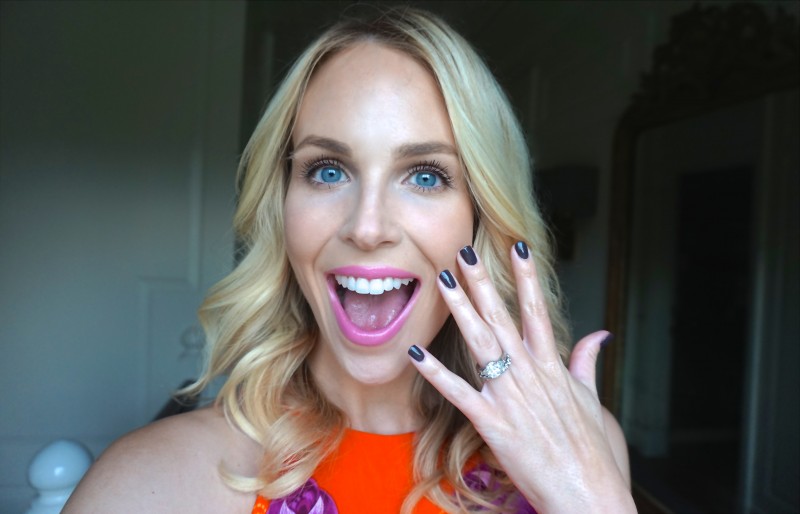 xoxo,
@beautynowapp
5 Responses to "My New Favorite Top Coat!"
You May Also Like