Things I've Tried Lately
03 • 11 • 2018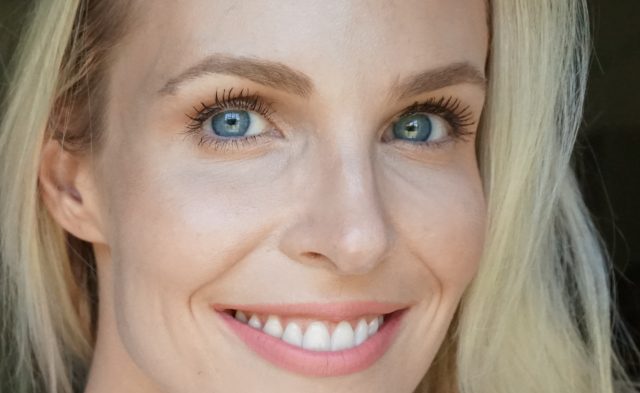 I thought we'd do something a little different this week: many times I go so long in between posts because each one takes so much time to research and write up. Before I recommend a product, I research it endlessly on Google, test it, compare it, and analyze longterm effectiveness before anything ever ends up on the blog. So many products and services never get written up, so you miss all the duds I try before I find something that is really good. So I've chronicled all the new beauty related things I've been experimenting with over the past couple weeks, a "first impressions" of sorts. It also makes me realize the shameful amount of time and energy I expend in the pursuit of beauty, but that's kind of what I do, and it's kind of why you're here, so…it is what it is.
I Switched Mascaras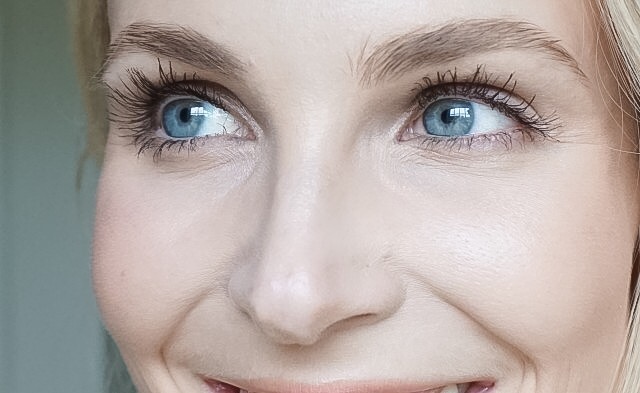 You know that scene in Clueless when Cher's dad asks her what she did at school today, and after much thought, she cheerfully responds, "I broke in my purple clogs!" What have I accomplished this week? Well, I switched back to black mascara! For the past year or so, my mascara of choice has been Cover Girl Super Sizer in Black Brown. I love how it lifts the lashes without an eyelash curler, and it has the right amount of volume and length, and never smudges. But I got a sample of It Cosmetics Superhero mascara, and now I reach for that one over the Cover Girl! Several readers had reached out telling me I should try it, and it is really good! No extra wiping or clumping, with serious length and fluttery lashes in one easy swipe. Just very low maintenance to put on, and the Black does not look too harsh on me. My one complaint is that it does smudge ever so slightly under my brows if I don't wear an eyeshadow primer (I like the Bare Minerals BB Eye Primer). But the It Cosmetics Superhero is now my mascara of choice, and I'm back to black! [By the way I realize I've been posting a lot about It Cosmetics lately (like their awesome zit concealer and new favorite foundation), so it is worth pointing out that none of these products were provided gratis, nor is this sponsored in any way. All my opinions are honest and unpaid-for, as usual!]
Also on the lash front, I started using Rodan & Fields Lash Boost about two weeks ago to see how it compares to the lash lengthening results I got from Latisse (I did a full post on Latisse here).
New Eye Cream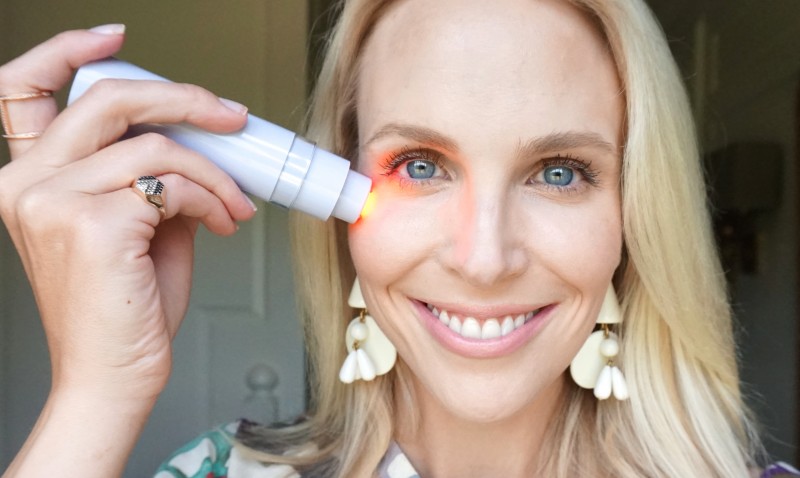 I posted a few weeks ago about this miracle me Bright Eye Illuminating Device that is the only thing that has ever helped my dark under eye circles (full post here). I continue to use it about 5 times a week and have seen a huge improvement in plumping the hollows under my eyes. But in response to that post, several (probably five?) readers and friends reached out to tell me that the Neocutis Lumiere Eye Cream does actually make a noticeable, dramatic improvement in under eye darkness. So I started using the Neocutis Lumiere about two weeks ago, and I think I can see an improvement. However I'm a terrible scientist: I'm not sure how much improvement is due to the me Bright, and I'm not about to stop using that. Another friend who is not using the me Bright just started the Neocutis Lumiere this week, so we will be tracking his progress as well for my full blog post.
GTL
A friend invited me to a class at Equinox River Oaks, and I was about to decline when I realized Equinox would provide childcare during the class. I had no interest in joining a gym, the thought of dropping off Evie while I had some "me" time was very enticing. And after I went to the gym and saw how fancy it was (Kiehl's Products in the locker room!), how amazing the class was, and how quality the kids' club is for $6/hour (they are sitting on the ground with her, reading and coloring), I was hooked! The membership is more affordable than I assumed as well. The whole Equinox experience is transcendental: for a moment I am a child-free, health-obsessed millennial, ready to conquer spin class and then blow my entire paycheck at Whole Foods. If you want to check out Equinox, I can get guest passes so just email me at kathleen@kathleenjenningsbeauty.com.
Obviously I had to buy some cool new workout attire to look the part. There's a real formula to what workout people wear these days, starting with black tennis shoes (specifically these Nike ones), a loose tank top with big arm holes so your printed sports bra can show, and long leggings (my fave I got are these gray mesh Joy Lab ones from Target!)
Teeth Whitening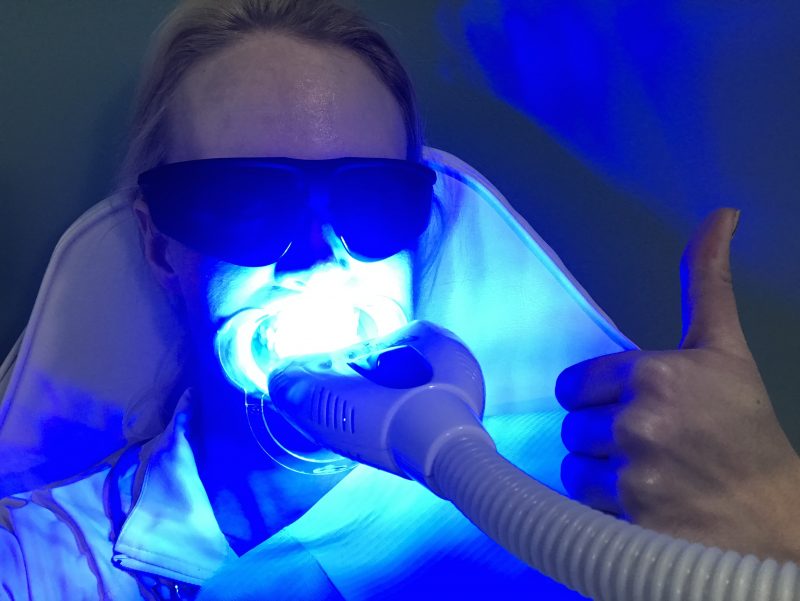 Last time my mom came to visit, she told me, "You need to do those white strips again." It must've been fate when Naturally White in the Galleria area reached out to me days later to see if I wanted to try their natural, pain-free (allegedly) teeth whitening treatment! I will do a full post on my experience, but I highly recommend Naturally White. In one hour for $199 (plus you get a 20% discount if you mention my blog), my teeth got 2 shades whiter. It was definitely noticeable to both my husband and me. The treatment itself was totally pain free (better than Zoom, from what I've heard), but my teeth did ache that evening, but were totally back to normal the next morning. I think if you take two Advil right after the treatment the pain would be manageable.
My Zit Saga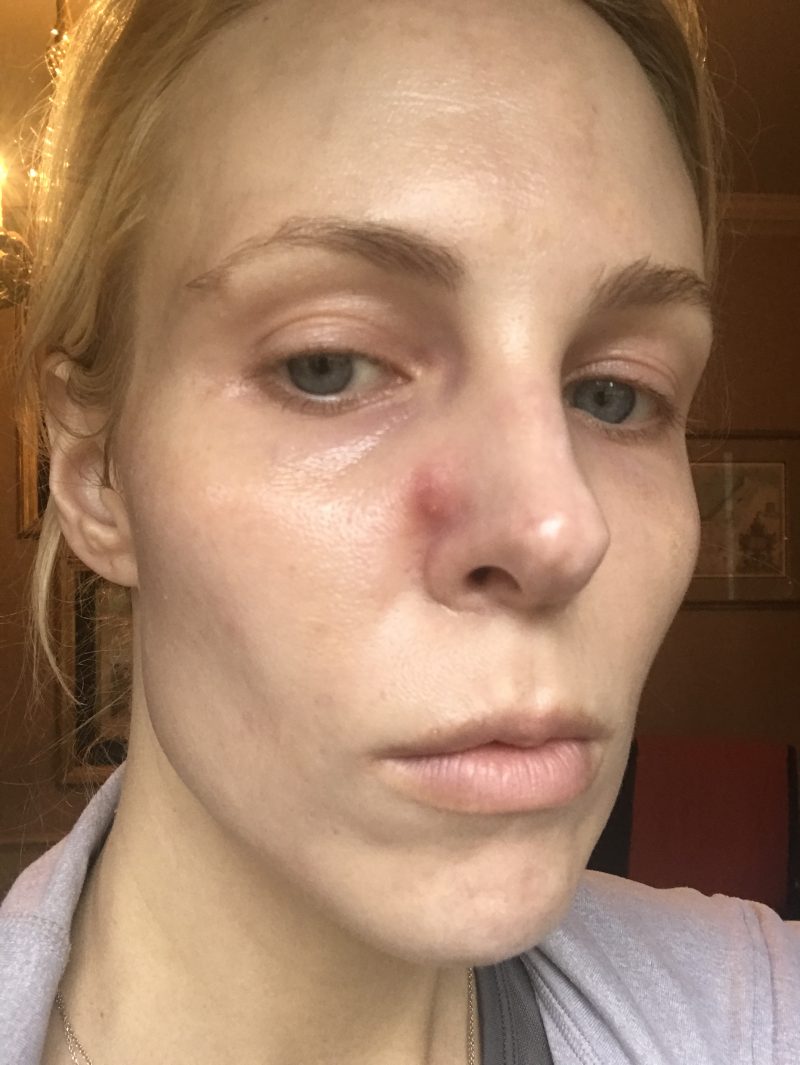 If you follow me on Instagram stories, then you know about my epic zit that just won't die. Ugh. It was born January 10th (I know this because it was my anniversary), and is still hanging around as I write this on March 10th. I had my painful, cystic zit injected with cortisone, and it shrank quickly, but never went away totally. And then it has come back twice, this last time just as badly as the original time! As I documented my zit's life cycle on Insta, people DM'd me that Spirolactone (a blood pressure pill prescribed for hormonal acne) has been a game-changer for them. So I started Spirolactone about two weeks ago now, and this time my cycle has come and passed with no new cystic zits (knock on wood). As for my monster zit, it is in a waning pattern, and I continue to attack it with Aczone, benzoyl peroxide, Mario Badescu Drying Lotion (the cult-fave pink one) and the Buffering Lotion (for cysts), the Neutrogena Light Therapy Acne Spot Treatment, among others. Nothing seems to work on this monster zit.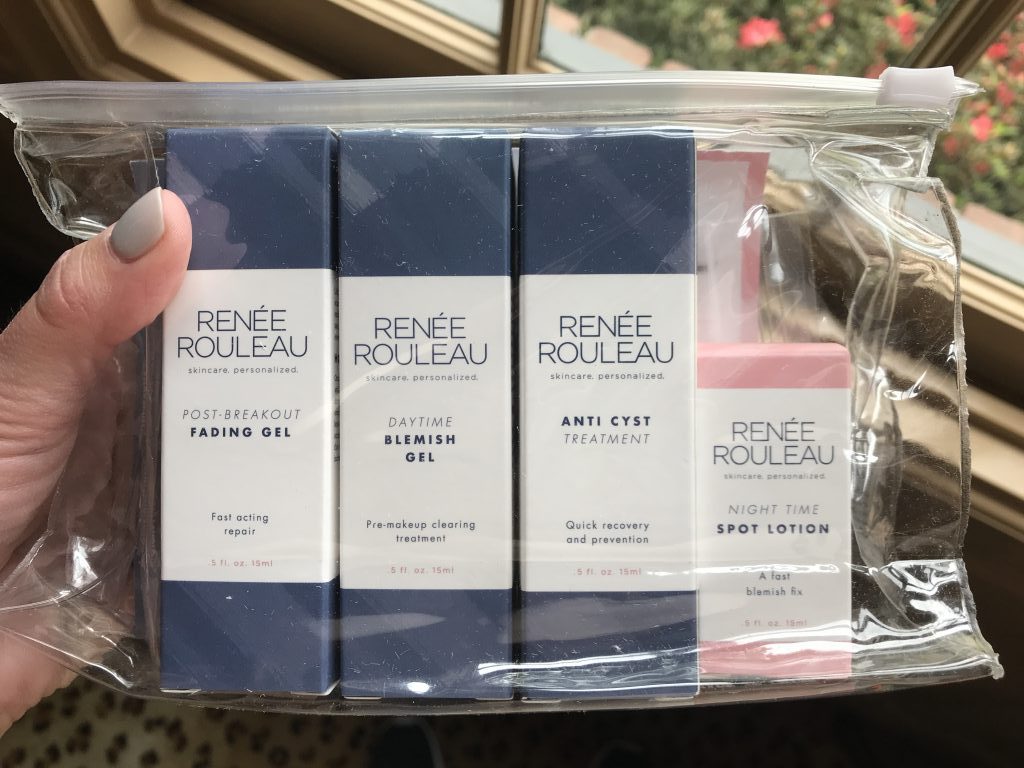 Other readers and the internets recommended Renee Rouleau Anti-Cyst Treatment, a lactic acid treatment that is said to make cystic zits reabsorb and return from whence they came. I ended up ordering her whole Zit Care Kit, and also a so-called "miracle detox mask" that stops breakouts in their path and is preventative when you use it once a week. I just received these yesterday and am trying all the products and will update you if I see any improvement. I used the mask last night and it seemed awesome- made my skin glowy and even toned! So far, so good.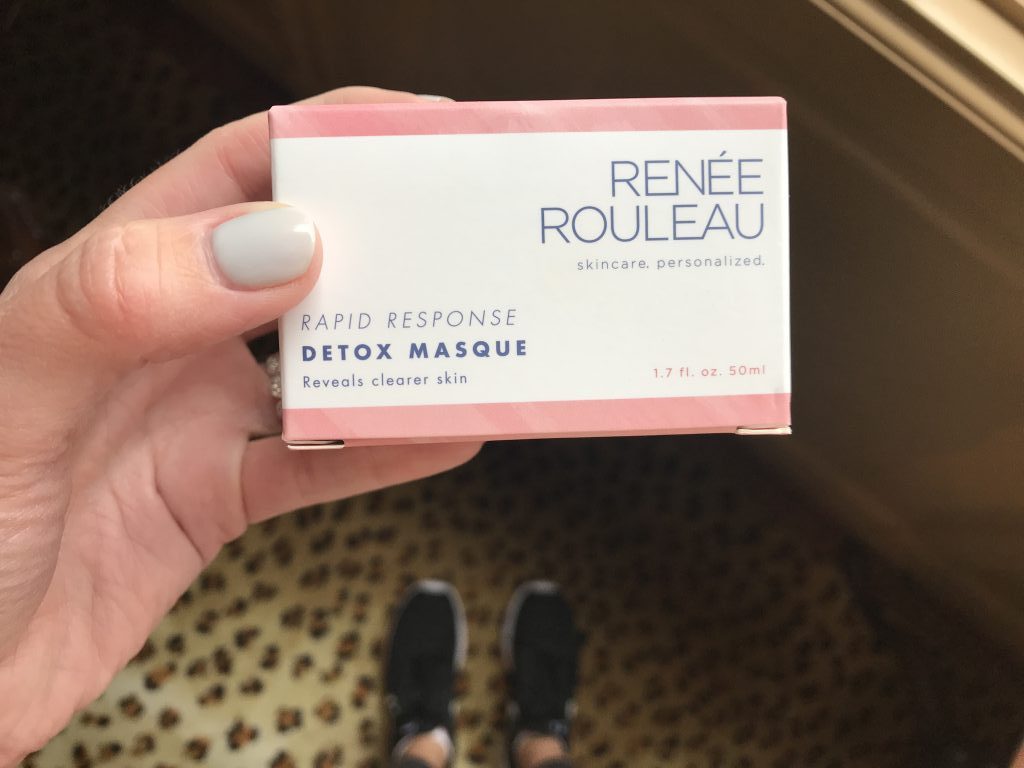 Melasma Treatment
I also started a series of IPL treatments for my melasma at Laser Girl Med Spa (in Bellaire, ask for the owner Alyssa, she is awesome!) They also recommended that I try High Frequency Vein Treatment for the tiny red veins around my nose. I had completely given up fixing the redness around my nose because I have tried several treatments with little to no improvement, including IPL (worked slightly, but short term), V Beam, and Pulsed Dye Laser. I will do a whole post when I have the final results, but when I walked out of the treatment, I couldn't believe my eyes- my tiny veins were gone! The next day they are more red and kind of flaking off, as they heal, so I will keep you posted. But this is very promising!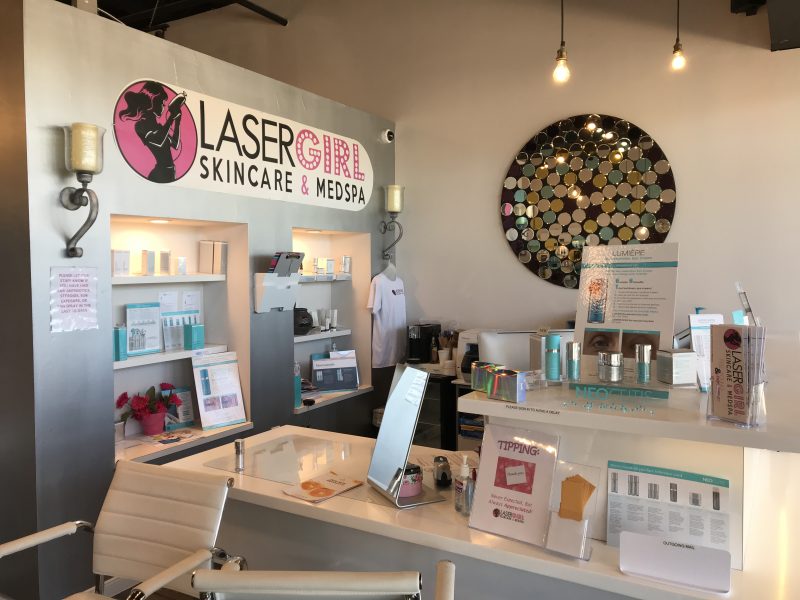 Another minor change- for the past few days I have just been using my NuFace on a damp face, instead of using any kind of conductive gel, and it seems to work just as effectively. I periodically spritz my face with this cheapo spray as needed while I use my NuFace, and it is so much easier than having to wash off gel!
I think that's about it for any recent changes in my routine. Let me know if you'd like to see more "in progress" posts like this!
xoxo,
You May Also Like