Trend: Statement Necklace vs. Pendant Necklace
08 • 28 • 2013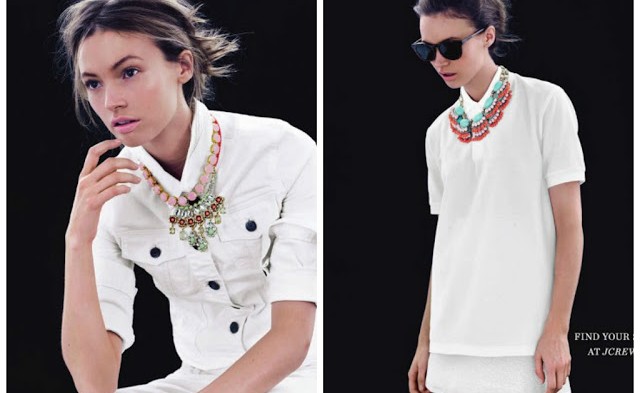 Should we store all of our statement bib-type necklaces in favor of the long, layered pendant look?  I recently bought two cute necklaces that I wanted to compare.
The Incumbent = Bib-Style Statement Necklace
I'm so sick of seeing those rhinestone, bib-style statement necklaces that J Crew has been pushing season after season.  Surely these are out by now.
Oh, and I'm sure you've never seen this necklace before:
The J Crew Bubble Necklace- it's everywhere!!
Not immune to the Bubble phenomenon
Why, then, did I just buy a new J Crew statement necklace??  So versatile– it goes with nothing so it goes with everything!
This Fall I want to wear the statement necklace with a slouchy gray sweatshirt and leather skirt like this cute look from Cupcakes and Cashmere:
The Challenger = Long Pendant Necklace

Now consider the long horn pendant that I picked up at Blue Elephant, a cute new boutique from Austin that just opened in Rice Village:
It was $12!  A total steal.
Channeling Miz Richie
When Carly from C Style blog came over to revamp my closet, she paired every outfit with delicate gold layered necklaces.  She is a big advocate of the layered look, and believe me, she knows what she's doing!
So, what do you think– are you over the statement necklace??
xoxo,
Kathleen
You May Also Like