This Concealer Lives In My Bag
05 • 21 • 2016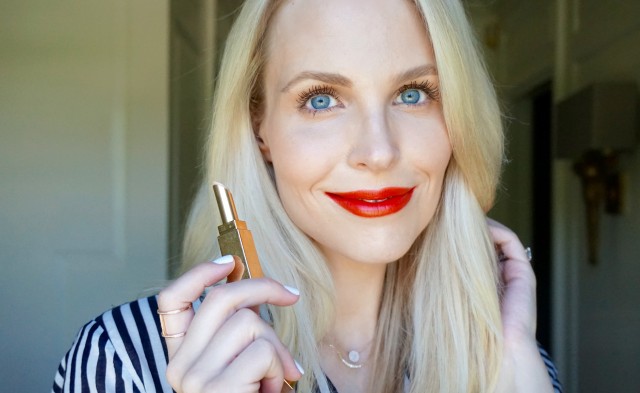 Why does YSL Touche Eclat get all the love? YSL has a truly standout concealer and the famous Touche Eclat is definitely NOT. IT. Read on to learn about the YSL stick concealer that has been a makeup bag staple of mine for about ten years: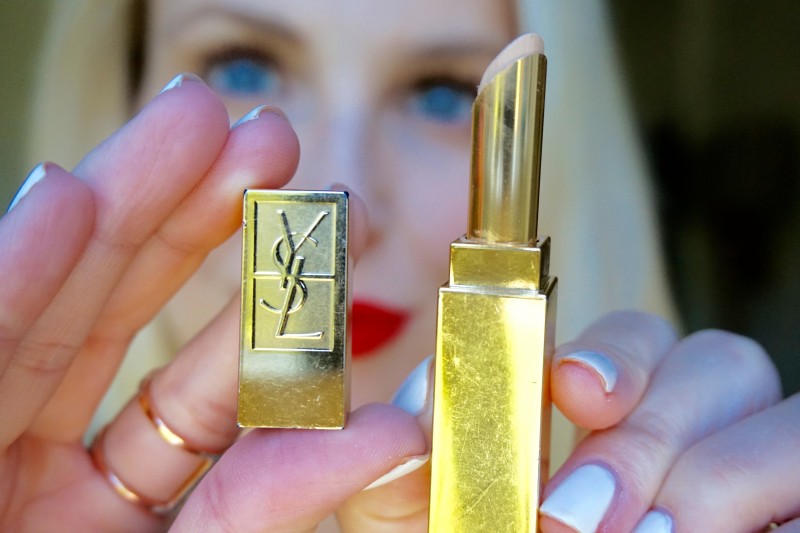 I think the best stick concealer out there is YSL Anti-Cernes Multi-Action Concealer, not to be confused with the ever-popular YSL Touche Eclat. For me, Touche Eclat has minimal coverage and does virtually nothing to cover my undereye circles. Every time I read a magazine article and some model-actress says she swears by YSL Touche Eclat, I am faced with two strong emotions: (1) incredulity: I do not believe said famous person actually suffers from bad undereye circles, and (2) pity: imagine how good she would look if she used a concealer that actually worked.
Anyway, the YSL Anti-Cernes Multi-Action Concealer (the stick one) that no one talks about is the YSL product that deserves all the hoopla and glory. I actually do not use it in the morning to cover my undereye circles– for that task I currently swear by MUD Blue Corrector 1 followed by Nars Radiant Creamy Concealer.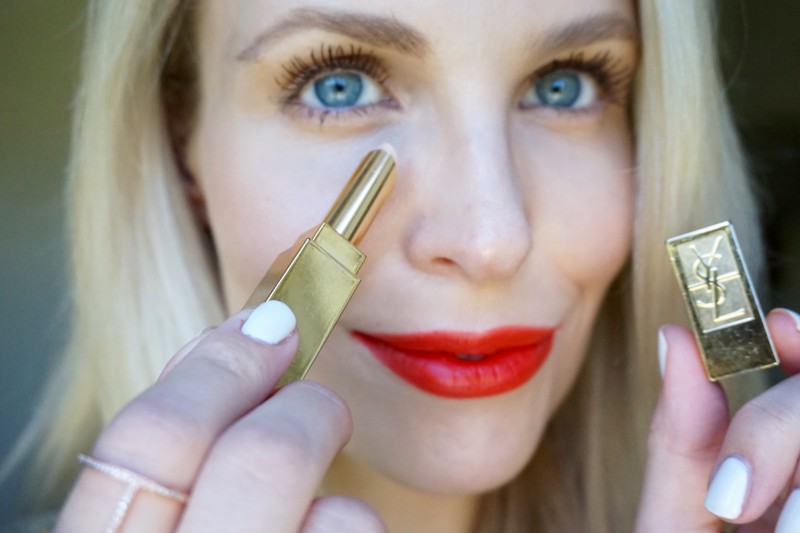 But the YSL stick concealer is indispensable nonetheless– it is a super-pigmented, creamy-but-with-staying-power consistency that lives in my purse for touch ups later. If I get to the office in different lighting and notice that I still have undereye circles peeking through, I apply the YSL directly from the stick and tap in to blend. Unlike other stick concealers, this one does not look cakey when layered over other makeup and powder.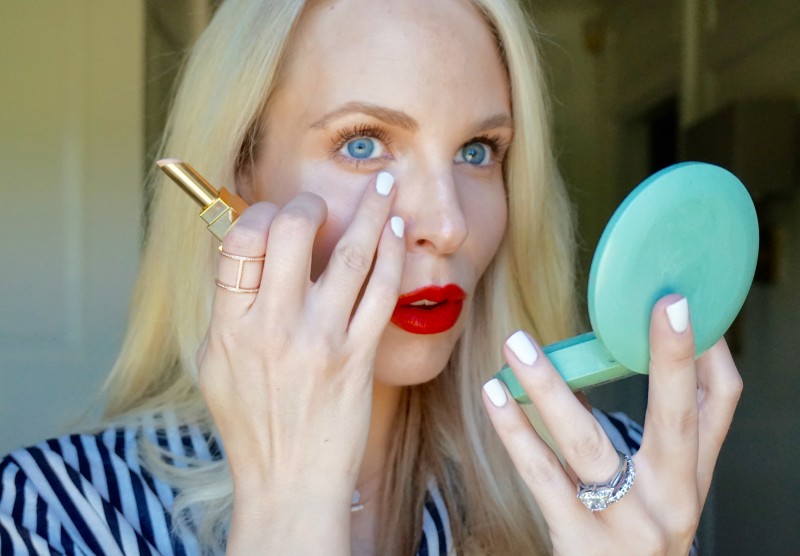 As the day wears on, the concealer around my nose mysteriously vanishes and the red veins around my nose reappear. A quick swipe of the YSL stick concealer completely covers, neutralizes redness, and makes my whole makeup look fresh again. The small-ish, angled stick is the perfect size and shape for this job!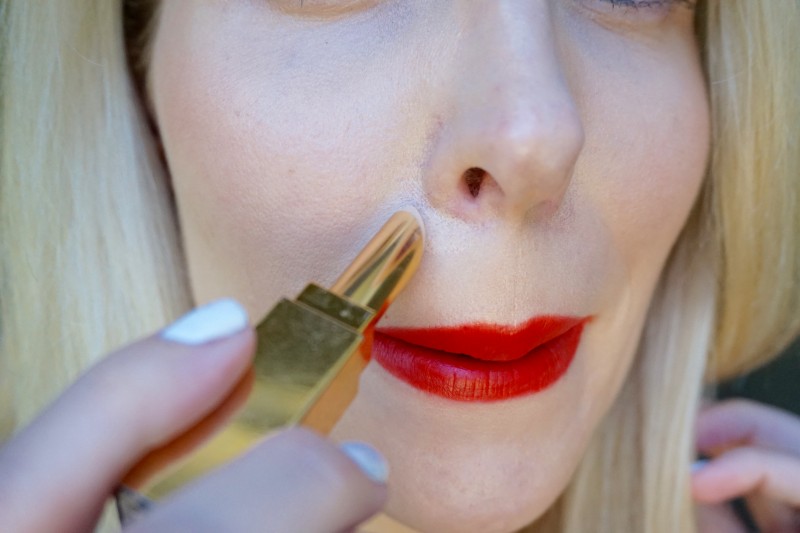 The very-pigmented, opaque YSL stick is also the perfect consistency to cover up zits and blemishes. I use the lightest shade, 001 Ivory Beige, which is extremely pale, almost white. The middle shade, 002 Nude Beige, is pretty light also and would probably work on a more versatile range of skintones.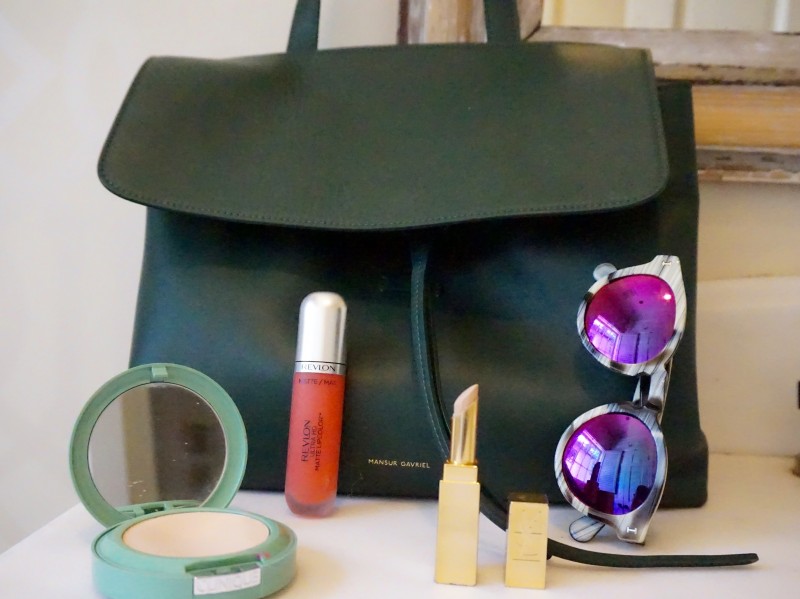 My beloved YSL stick concealer pictured here alongside some of my current purse faves: mirrored Illesteva 'Leonard' sunglasses, Revlon HD Matte Lipcolor in Flirtation, Clinique Perfectly Real Compact Makeup (that I've used as my pressed powder since college), and my new Mansur Gavriel Lady Bag in Moss.
Bottom line: the YSL stick concealer deserves a permanent home in your purse's makeup bag.

4 Responses to "This Concealer Lives In My Bag"
You May Also Like