The Best Daytime Moisturizer
10 • 25 • 2013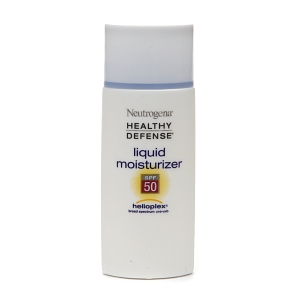 My mom turned me onto this little drugstore gem, and it has become my under-makeup skincare staple! Neutrogena Healthy Defense Liquid Moisturizer SPF 50 ($11) is the best daytime moisturizer:
The Neutrogena has replaced my SkinCeuticals Physical Fusion UV Defense SPF 50 lotion ($35) that I got from my dermatologist's office and have used for years:
Both products are better classified as "protective fluids," as opposed to sunscreens.  The Neutrogena Liquid Moisturizer seems like a much higher-end product.  Just like the SkinCeuticals lotion, it is in a bottle that you shake up, not in a tube that dispenses a gloppy, opaque sunscreen. Liquidy and sheer, the Neutrogena is designed to go on under makeup, but also protects your skin with SPF 50.  It has a pleasant, fresh scent that is totally unlike sunscreen.
Aside from the vast difference in price ($11 vs. $35), the main difference between the Neutrogena and the SkinCeuticals product is that the Neutrogena does not have a tint.  But I never thought the SkinCeuticals had enough tint or coverage to skip foundation anyway, so I haven't missed the tint.
Even though the Liquid Moisturizer is one of the best Neutrogena products on the market, they don't seem to carry it at every drugstore or grocery store.  With a sea of "Healthy Defense" sunscreens on the shelves, make sure you find the one that says "LIQUID MOISTURIZER."
Go to the Neutrogena website to order it online, or use their "Find a Store" button to find the Liquid Moisturizer in a store near you.  For you Houstonites, I found mine at the Kroger on Westpark & Buffalo Speedway (but it was not carried at the HEB across the street, or at the Target on San Felipe & I-610).
Please wear moisturizer + sunscreen under your makeup every day!
xoxo,
Kathleen
You May Also Like