The Best At-Home Beauty Devices
09 • 12 • 2019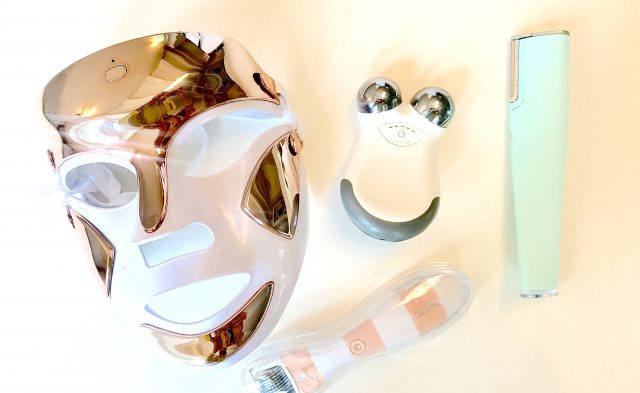 Let's discuss the best at-home beauty devices that I swear by. I have tried so many different gadgets, but these are the four devices that have become a regular part of my routine. Here is a quick run down on the four devices I swear by, and they are all on sale right now 20% off or more! These devices also make great holiday gifts for mom, sis, or yourself!
Spectralite LED Mask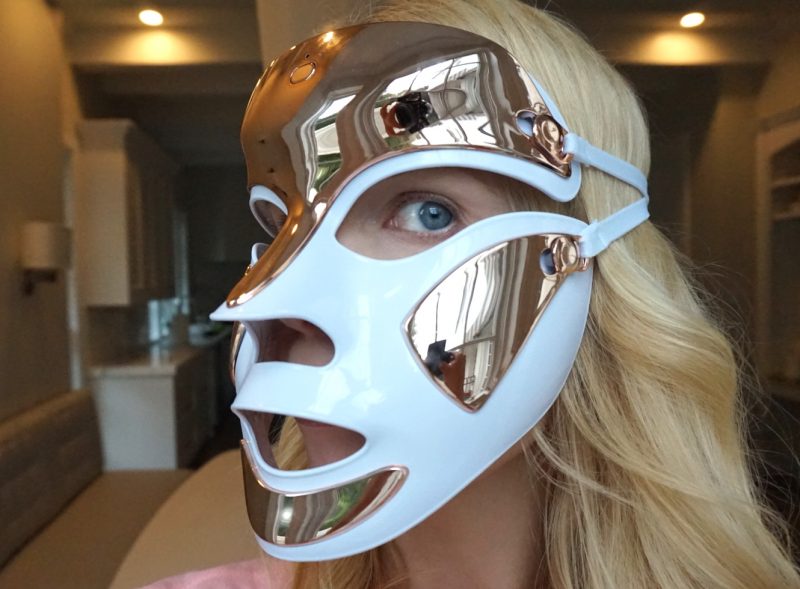 I have continued to use my Dr. Dennis Gross Spectralite LED Mask almost everyday because I am loving the results. I use the combo red light/blue light setting. The red LED lights boost collagen, and I feel like I can immediately see a difference in the plumpness of my skin and over time it is visibly helping plump fine lines. And I just look BETTER.
The blue LED lights fight bacteria that causes acne. I have not necessarily noticed that it has cut down on the frequency of my adult hormonal acne (although clinical studies show it does have that effect on the majority of users.) I do however think it makes an existing breakout clear up more quickly. I also love the immediate reduction the Spectralite mask makes on the overall redness in my face.
This is a quick three-minute treatment that I truly do not mind using because I feel like I look better as soon as I take off the mask!
The Spectralite is 20% off right now on Cult Beauty UK. You also don't have to pay tax because it is shipping from the UK, and they have free 2-day shipping! A great time to pull the trigger on the high dollar Spectralite so you can save the tax. So your total is $396 (with today's exhange rate anyway).
Dermaflash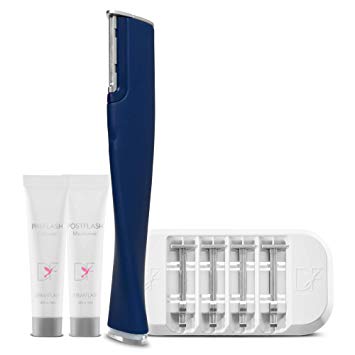 Almost every single woman I know needs the Dermaflash in her life! The Dermaflash is like a vibrating mini-razor that I shave my face with about once every two months. Or just when I notice the peach fuzz is coming back. No, it has not made my peach fuzz grow back thicker or darker (that is an old wives' tale).
The Dermaflash seems to be even cheaper right now than it was on the Nordstrom Anniversary Sale. This Dermaflash set that also includes Prep n' Glow pads is 40% off at Nordstrom. So it is $128 (vs. $225). Free shipping too!
gloPRO Microneedling Tool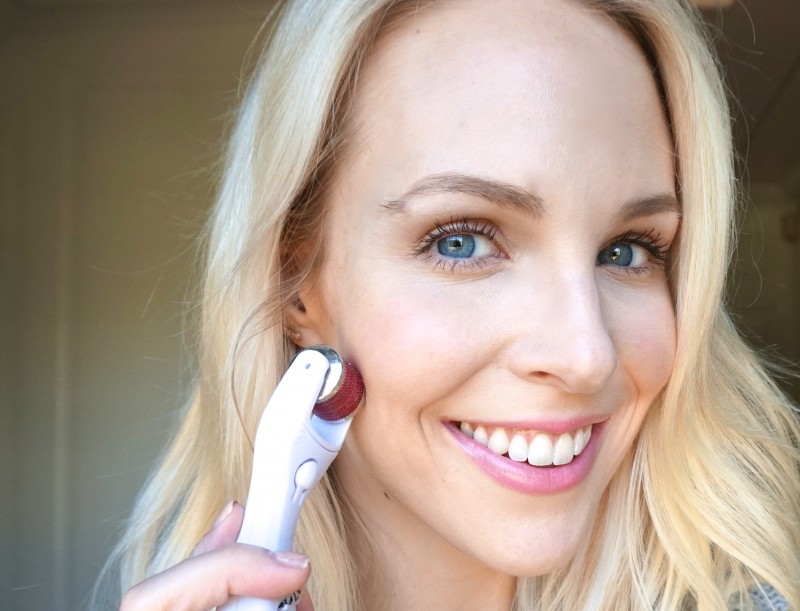 Even when I'm tired at night, I try to make myself use my gloPRO at-home microneedling device at least 2-3 times per week! Sometimes I get lazy about doing the gloPRO, But every time I do, I look at myself about 24 hours later and I can see a visible difference that makes me say, Wow, you should really commit to doing this more often!
The gloPRO roller device creates tiny injuries that stimulate collagen, plumping lines and refining skin texture. It also allows your skincare to penetrate better, so you get better results from your pricey serums! I use the Estee Lauder Advanced Night Repair Serum with my gloPRO. To read my full post about my gloPRO routine, click here.
The gloPRO is on sale 20% on Cult Beauty UK (no code needed). So with no tax and free two-day shipping your total comes to $183 for the gloPRO.
NuFace Mini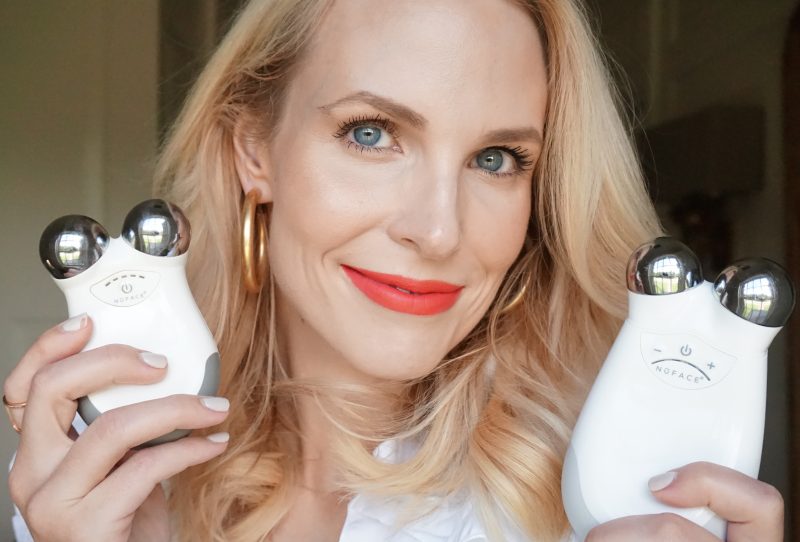 You probably all know by now that I use my NuFace Mini microcurrent device almost every morning to combat facial sagging. (You can read my full post about the NuFace Mini here, or my post where I compare the NuFace Mini vs. the NuFace Trinity here).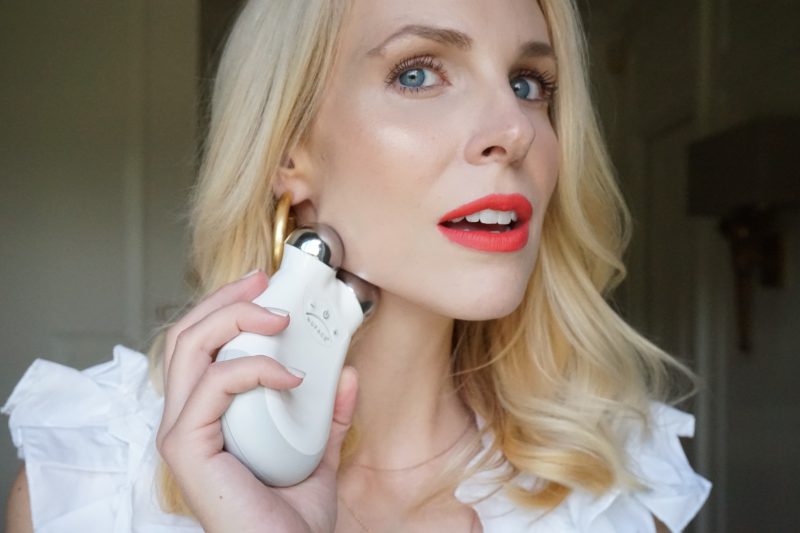 The NuFace Mini is 25% on Skinstore with code: STOCKUP. Actually any purchase over $125 is 25% off, otherwise everything on the site is 20% off! Free shipping too.
I truly believe that if you use the best at-home beauty devices regularly, [ahem, they don't work in the box!], you can save money on fancy med-spa treatments at your derm's office!
xoxo,
You May Also Like