Recent Drugstore Makeup Finds
10 • 10 • 2019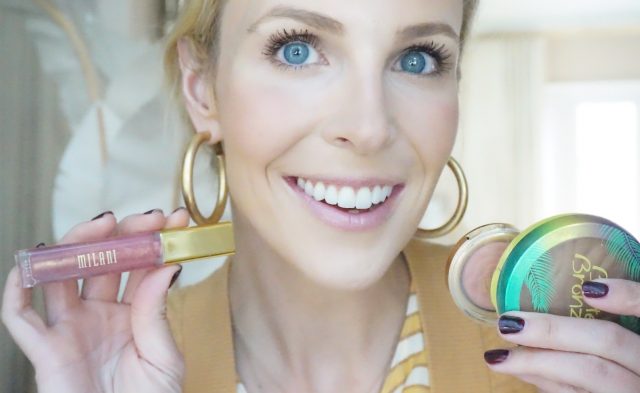 I haven't talked about my best drugstore beauty finds in years! I'm constantly buying cheapo brands in the hopes that I will find a real diamond in the rough. Unfortunately most are duds. Here are some recent drugstore beauty finds that really impressed me!
Disclaimer:
Walmart compensated me to write this post. As per my usual policy, I only accept sponsored posts from multi-brand retailers where I am allowed to pick the products I feature and the subject matter of the post. In fact I have turned down several sponsored post opportunities from Walmart prior to this. So I'm excited to collaborate with them on terms that were mutually acceptable because there are great deals to be had!
Concealer
My under eye circles have always been the bane of my existence, and I'm always on the hunt for an affordable concealer that will banish my circles forever. I've always been disappointed with drugstore concealers (I think I have tried them all!) until now!
The Maybelline Super Stay Longwear Under-Eye Concealer is the best drugstore concealer I have ever tried. (I wear shade Light.) It has great coverage, and the finish is not too chalky or glowy. Importantly it does not break up and get dry-looking after a few hours like most drugstore concealers. I don't love it quite as much as my Holy Grail Nars Radiant Creamy Concealer, but the Maybelline Super Stay would be totally acceptable if I were to go out of town to a wedding and realize I forgot my entire makeup bag.*
*based on true events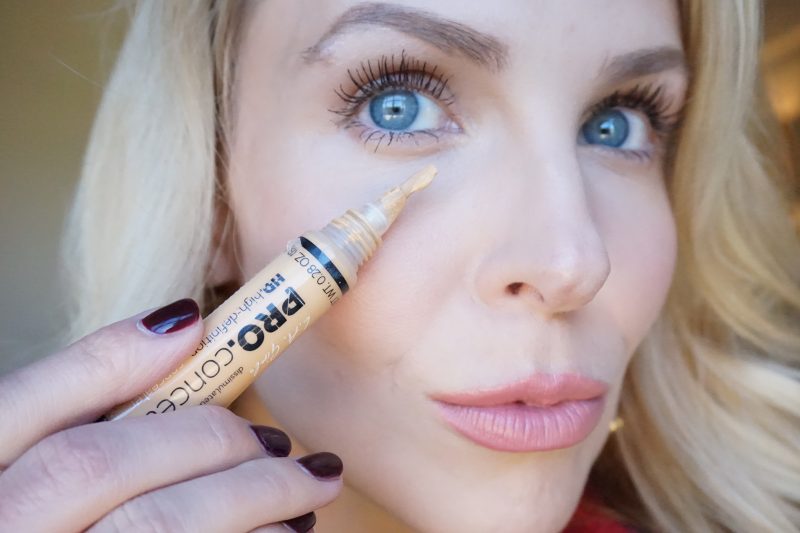 The LA Girl Pro Conceal is a YouTuber fave with a great shade selection and full coverage. I do not like the La Girl Pro Conceal as a concealer quite as much as the Maybelline Super Stay, but I DO love the LA Girl Pro Conceal in Yellow as a corrector. I wear the Yellow shade under my regular concealer to completely cancel out the blue tones of my under eye circles. It has become my favorite corrector (even more coverage than the MUD corrector I wrote about previously). It is great at covering melasma too if you use it under your foundation.
Another drugstore concealer worth noting is the Loreal Infallible Concealer. I do not love the best-selling Tarte Shape Tape Concealer, I just find it hard to work with. But the Loreal Infallible is an exact dupe for the Shape Tape! So if Shape Tape is your jam, definitely try the Loreal Infallible.
Fun New Lippies
Several new awesome discoveries in the lip department! These new Loreal lipsticks feel very high-end with phenomenal coverage. The Loreal Colour Riche Plump and Shine Lipstick in Coconut Plump is a fantastic nude color. It has that slight, "spicy" plumping feel, but it is not too strong. The color doesn't last forever, but it is so hydrating and really does make your lips look bigger! I've been reaching for this lipstick a lot lately and have gotten a lot of compliments when I wear it.
I also love Loreal Colour Riche Shine Lipstick in Dewy Petal and Shining Peach. These are not "plumping," but the coverage and the way they reflect light really do create the appearance of larger lips.
Lip Gloss
My everyday favorite drugstore gloss is the Neutrogena Hydro Boost Lip Gloss– it is my most frequently used, everyday gloss. I love these glosses because they will heal chapped lips better than anything I have tried. My favorite shades are Pink Sorbet and True Nude.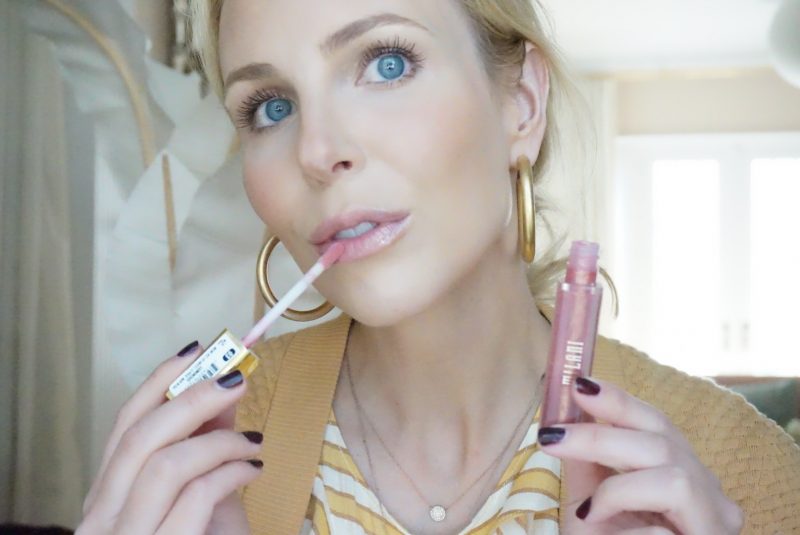 But in terms of a drugstore gloss for a big event where you want more coverage, I love the Milani Lip Gloss in Pink Lady and Luminous. Pink Lady is a medium pink with no sparkle (it is hidden in one of my purses and I can't find it to photograph it!)
Luminous (shown above) is a shade I would never have picked up in the store- it is a golden-mauve sparkly color. But one time I asked Deborah Duncan of Great Day Houston what fabulous lipgloss she was wearing, and she told me Milani Luminous is her go to! In case you are not familiar with Deborah, she is a gorgeous African American woman. This lip gloss looks great on both our complexions!
Honorable Mention goes to Wet n' Wild Liquid Catsuit in Peach Stole My Look. It is a really unique formula: full-coverage (like opaque, not sheer at all), long-lasting and high-shine. I wish they would release more shades!
Lipliner and Eyeliner
As far as lipliner, Rimmel Exaggerate Liner in Eastend Snob is the best drugstore option I've found. The consensus in the beauty blogger community is that Eastend Snob is a close dupe to Charlotte Tilbury Pillow Talk liner. With my fair skin, it is so difficult for me to find a nude that doesn't turn brown on me. The Rimmel lipliner goes on smoothly without dragging, and does not feel dried out going on like all the other drugstore lipliners do.
Rimmel also makes an excellent eyeliner- Rimmel Scandaleyes Kohl Kajal Eye Liner in Black. It does not drag and it stays put, even on your waterline. The shade selection is limited, but if you are just looking for a black-as-night eyeliner, there is no reason to pay department store prices!
Blush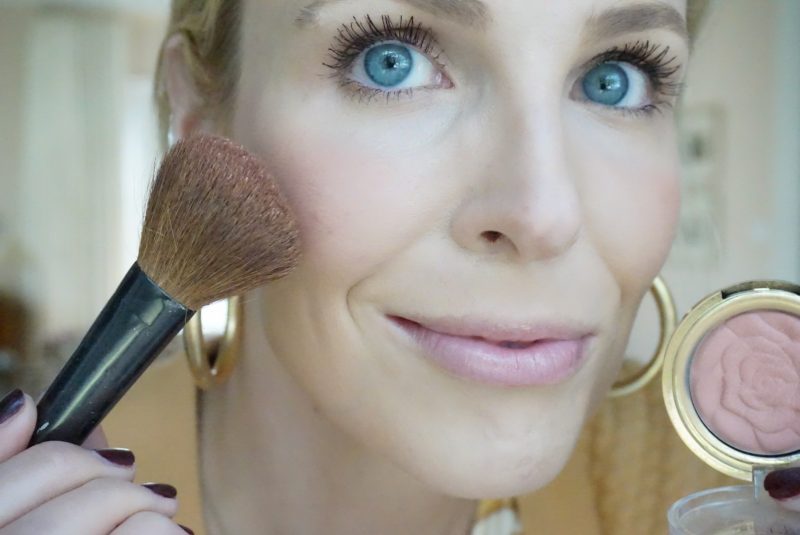 I'm still mad at Milani for discontinuing my favorite Lash Trifecta mascara. But I have to say the Milani Powder Blush in Romantic Rose is a great neutral blush that would work on any skintone. Great lasting powder too, and the shimmer is not obvious on skin.
Bronzer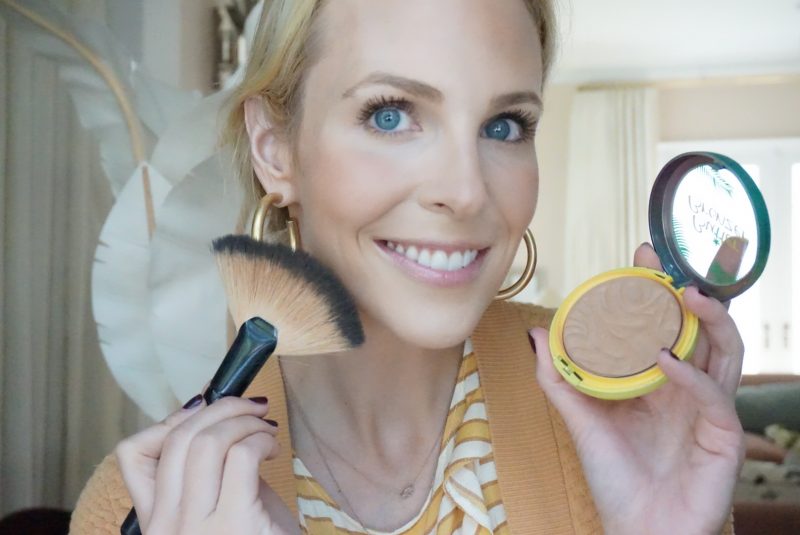 The Physicians Formula Butter Bronzer is a best-seller that I have had in my arsenal for awhile. I had stopped using it in favor of my It Cosmetics or Charlotte Tilbury bronzers, but pulled it out again after @things.I.bought.and.liked raved about it so much.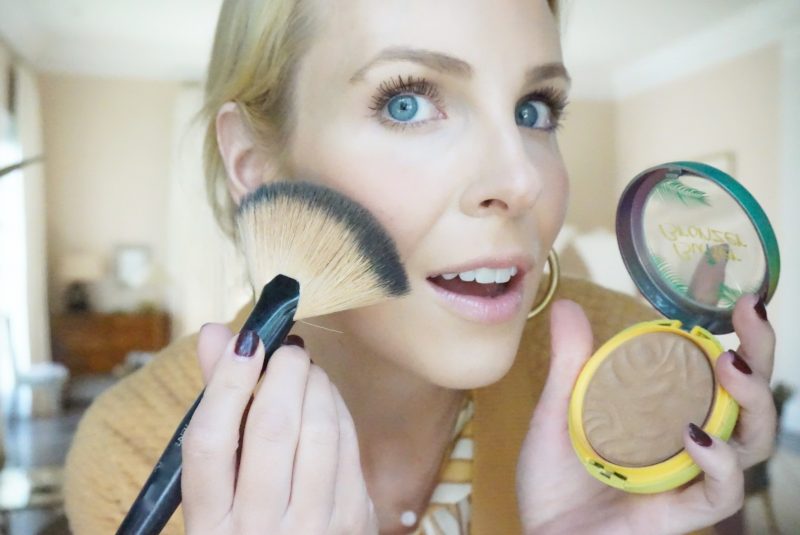 Butter Bronzer is a fantastic bronzer that gives a "lit from within" glow. I love the non-orange color, the finish (glowy but not shimmery), and that it doesn't go on too heavy or too sheer. My one complaint is that the weartime is not as long as my more expensive bronzers. Also a tip: do not use the included foam brush to apply it! I use a fluffy fan brush similar to this one.
Face Wash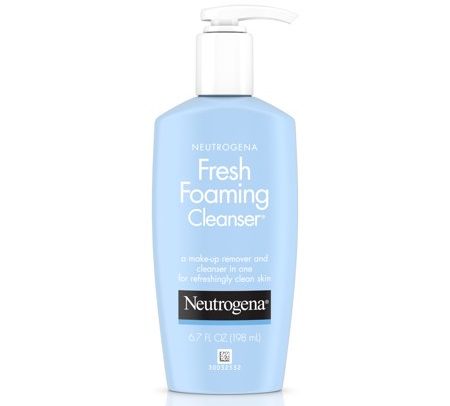 Recently I've been posting my nightly P.M. routines on my Instagram Stories. Now I receive a lot of shocked messages about my cheapo Neutrogena Fresh Foaming Cleanser that I use as my first cleanse. My thought is, if it ain't broke, don't fix it! I have used the Neutrogena Fresh Foaming Cleanser since college, and it is one of the only cleansers that seems to remove my makeup well without overdrying my skin.
Another cleanser that I love and have used periodically throughout my life is Philosophy Purity Cleanser. I actually travel with the Purity Cleanser because the pump on the Neutrogena does not re-close well. Walmart has a generous 8 oz. bottle of Purity Cleanser for $18 (vs. usually $24), plus free Next Day shipping. A bottle lasts a long time!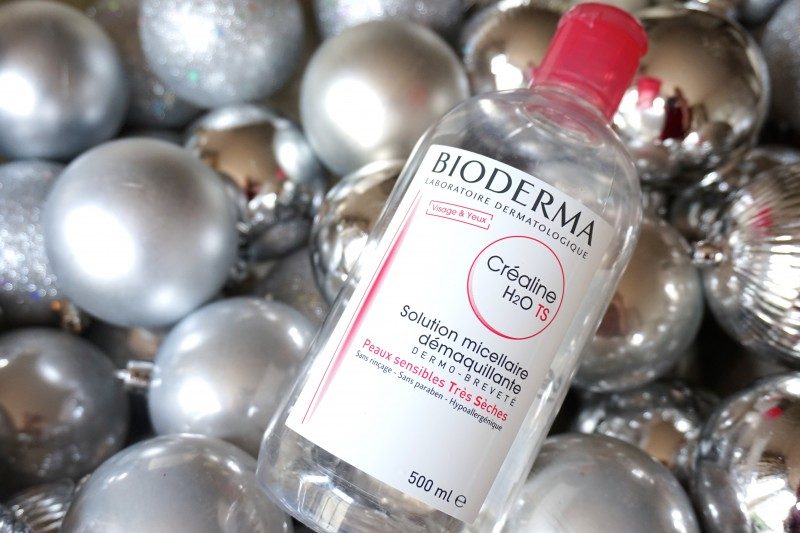 Whatever cleanser you use as your first cleanse, I highly recommend you follow it with Bioderma micellar water on a cotton pad. You will be surprised how much makeup residue is remaining after your first cleanse! Every time I accidentally skip my Bioderma second cleanse step, I get a zit. It's also worth noting that not all micellar waters are created equal. I have tried the Loreal, Simple, and Garner micellar waters and I do not think they work as well as the Bioderma!
The Bioderma is about $15 on Walmart.com (same price as Amazon), but Walmart has free Next Day shipping.
I was surprised to find out Walmart.com also carries a wide array of luxury beauty brands like Peter Thomas Roth, Revision, Obagi and more! For my post about the best of Walmart's luxury beauty, click here.
xoxo,
You May Also Like