The Drugstore Foundation I'm Obsessed With
04 • 29 • 2015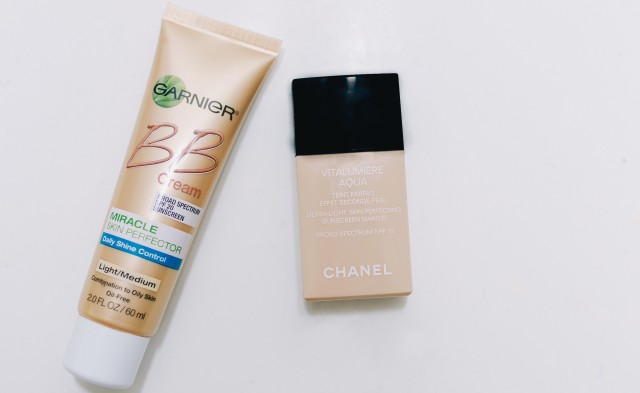 Drugstore dupe alert! I discovered the greatest foundation ever, and it is cheap! Garnier Skin Renew BB Cream Miracle Skin Perfector is a great dupe for Chanel Vitalumiere Aqua, but it is actually far superior in many ways. I know you're thinking– um, I've already heard of Garnier BB Cream; it was one of the first ones to hit the market when the BB cream craze started a couple years ago. But this is the "Daily Shine Control" version (for Combination to Oily Skin), and it is completely different than the regular Garnier BB Cream. Read on for my Garnier BB Cream review:
We have my lovely mom to thank (again!) for yet another fabulous drugstore find. On her last visit she literally pressed it into my hands and said, "No seriously, try it." And every day since then I've found myself reaching for a $9 drugstore BB cream over my $50 Chanel cult-favorite foundation! Garnier is similar to the Chanel Vitalumiere Aqua Ultralight Skin Perfecting Makeup in that it looks pretty invisible on the skin– it minimizes pores, evens out skin tone, and does not look cakey, even when set with powder. Both formulas are very liquidy– not quite as thin as fluid sheer foundations like Giorgio Armani Maestro Fusion Makeup or Loreal Magic Nude Liquid Powder Foundation, but very liquidy nonetheless, like you should shake the bottle up before you apply.
The thinness of the formula makes it a breeze to quickly blend into your skin. The Garnier's finish is slightly more "glowy" and radiant looking than the Chanel, which I did not expect from a product that is marketed as "Shine Control." I actually prefer the more radiant finish of the Garnier– it is not quite as glimmery as the Laura Mercier Illuminating Tinted Moisturizer, for example, but it imparts a more natural, toned-down radiance. A downside of the Garnier is that it does not have the Chanel's delicious, refreshing scent. The Garnier smells like alcohol, but that quickly dissipates (and it looks so good on the skin that I do not care). Other differences– the Garnier has a limited shade range (only Light to Medium and Medium to Dark), as opposed to Chanel's 10 shades. However the Garnier adjusts to work on most skin tones. I am very pale (with yellow undertones), and the Light to Medium is definitely darker than my skin, but it gives me a little color and does not look mismatched.
Now, where the Garnier leaves Chanel Vitalumiere Aqua (and most other foundations, tinted moisturizers, and BB creams) in the dust is in its AMAZING coverage. The Garnier is so quick to put on and blendable, yet it covers WAY better than any other BB cream or tinted moisturizer I have ever tried. And I have tried a freaking lot of them. In one quick sweep, the Garnier covers 90% of my skin problems, without looking like I have a mask of foundation. Here I am on the left with absolutely no makeup, compared with the right photo wearing only the Garnier BB Cream (no concealer or powder- and NO PHOTOSHOP, I swear!):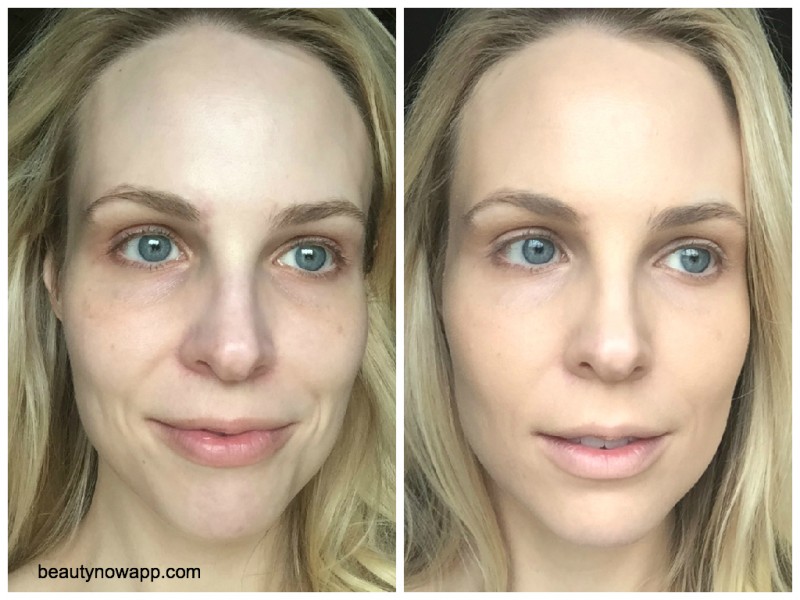 See how in ONE step the Garnier magically airbrushed away 90% of my under eye circles, the redness from the zits near my eyebrows and veins around my nose, and the slight brown spots on my cheeks? The finish the Garnier leaves is just incredible, like an Instagram filter for your face.
Usually I apply the Garnier with my fingers and without any primer underneath. But the finish does look even MORE smooth if you apply a primer beforehand (I use Laura Mercier Oil-Free Foundation Primer), and it will also extend the wear. I set it with Hourglass Ambient Light powder in Ethereal Light (dabbing it on with my Real Techniques powder brush), and then give a quick spritz of Urban Decay All Nighter Makeup Setting Spray after the rest of my makeup is done. I used to reserve the makeup setting spray for formal occasions, but now it is a part of my everyday routine because it really does extend the wear time of your makeup. It is like hairspray for your face, and it works!
Also, it is worth noting that I do not rely on the Garnier's SPF 20 for my sun protection; I layer it on top of my Elta MD UV Clear moisturizer. The Garnier contains sunscreens Octinoxate 3% (a chemical blocker) and Titanium Dioxide 4.7% (a physical blocker), but if you read my post here about the most effective types of sunscreen, then you know that you need some zinc oxide in your SPF.
Here's a parade of selfies where you can inspect the coverage and finish of Garnier BB Cream in various lights:
{All photos by @beautynow or @tracling}
Bottom line? If you only have time to apply one product in the morning, but want to feel confident about your skin, this Garnier BB cream is your jam. Note there are several versions of Garnier BB Cream on the shelves in similar packaging; look for the one that says "All Day Shine Control" and "For Combination to Oily Skin."
xoxo,
@beautynowapp
You May Also Like