Hourglass Vanish Airbrush Concealer Review
02 • 22 • 2020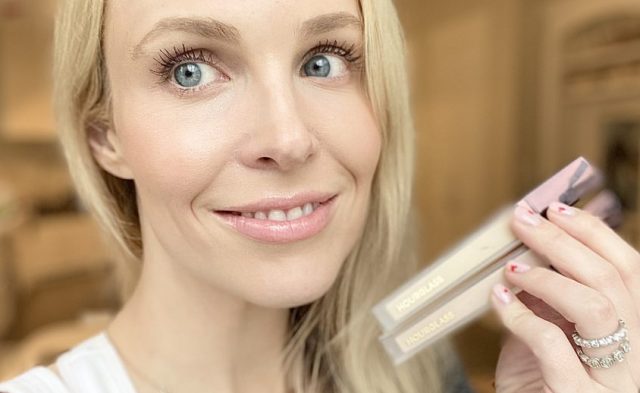 The Hourglass Vanish Airbrush Concealer has been getting a lot of buzz lately, and several of you asked if I could review it. Not one to pass up a new concealer, I've been using the Hourglass concealer for about a month now. In today's post I discuss the pros and cons of the Hourglass concealer and how it stacks up against other top concealers. For a more detailed Hourglass Vanish Airbrush Concealer review, including my application techniques, please watch my IGTV video here.
https://www.instagram.com/tv/B8NT2zbFaYa/?utm_source=ig_web_copy_link
Disclaimer:
Sephora compensated me to write this post. As per my usual policy, I only accept sponsored posts from multi-brand retailers that allow me to pick the products I feature and the subject matter of my post. I bought all the products with my own money.
What It Is: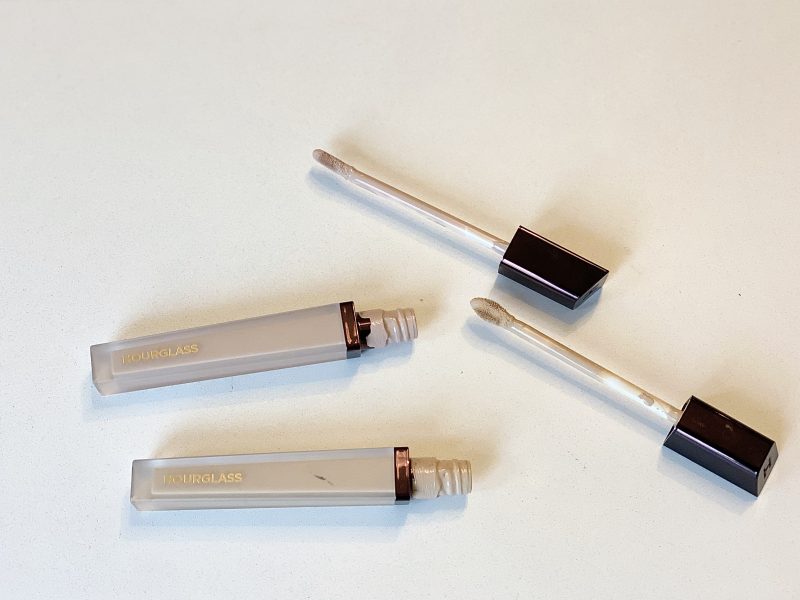 The Hourglass Vanish Airbrush Concealer is a full coverage, lightweight liquid concealer with a wand and a doe foot applicator. Hourglass claims it: …"blends seamlessly into skin and diffuses the look of pores and fine lines. The highly pigmented formula evens skin tone to conceal the appearance of dark circles, blemishes, and other imperfections for a smooth, natural, and airbrushed finish."
I purchased two shades: Creme (fair with pink undertones) and Cotton (fair with yellow undertones). I shade-matched with the Nars Radiant Creamy Concealer in Vanilla (my usual shade) at the store and the Creme was a very close match. Interestingly though I find myself using the Cotton shade more frequently because the under tones work better on other areas of my face, as opposed to just on my under eye circles.
Pros
Excellent Full Coverage:
The Hourglass Vanish Airbrush Concealer gives complete, opaque coverage. You need only the tiniest little bit to fully cover your under eye circles or redness. I'm actually impressed with how far concealers have come lately, achieving full coverage without heaviness or thickness. The Hourglass does not disappoint in what I consider the most important quality in a concealer.
Excellent Lasting Power:
The Hourglass definitely outperforms my old standby concealer, Nars Radiant Creamy Concealer, when it comes to wear time. The Hourglass lasts way longer without caking or oxidizing. I would say the wear time is on par with the Fenty Concealer (but the Fenty doesn't work as well under my eyes because it is a tad drier looking).
Because of the Hourglass's long-lasting coverage, it is a great concealer to use around your nose or chin where makeup tends to get rubbed off throughout the day.
Mattifying and Blurring:
Hourglass Vanish Concealer mattifies and blurs your under eye circles a bit. The blurring aspect is a definite edge over the Nars Radiant Creamy Concealer. The Hourglass blurs fine lines a bit, and makes the topography of under eye hollows [does that make sense?] less apparent because light is not bouncing off it. This is one reason I like to use the Hourglass and Nars in tandem- the Hourglass blurs the hollows a bit, and then use the Nars to reflect light just where you want it.
Obviously the matte finish of the Hourglass also makes it more useful for covering imperfections other than under eye circles, which segues into my next point…
More versatile:
The finish, consistency, and wear time of the Hourglass Vanish make it a more "jack of all trades" concealer. For instance, I love the Nars Radiant Creamy Concealer to cover under eye circles. However it is too emollient and rubs off too quickly to be a good concealer for redness around my nose. The Hourglass covers under eye circles well, but also lasts well around the nose.
You can also use the tip of the Hourglass wand to put a tiny dot on pimples. The matte finish of the Hourglass is good for covering up redness without reflecting light that would exaggerate the bump of your zit. (It is worth noting that my favorite concealer specifically for covering zits is the It Cosmetics Bye Bye Breakout).
Likeable Consistency:
Hourglass Vanish is the taco of concealers: I think the vast majority of people would say they like the Vanish. Because of its very full coverage and its not-too-thick, not-too-thin consistency, I feel confident that the Hourglass will suit most skin types and preferences.
Cons
Not Quite as Blendable:
This will vary depending on your particular skin type, but for me, the Hourglass Vanish Airbrush Concealer is not as easily blendable as my Nars. The Hourglass Vanish still blends well (better than a super thin concealer like the Kat Von D Lock It Concealer or the Fenty, and better than a super-thick concealer like the Tarte Creaseless). But on my skin, it is a bit tougher to blend in than the Nars, which seems to melt into my skin. I use a Beauty Blender (barely dampened with one faraway spritz of the Too Faced Hangover Primer Spray) to tap in the first layer of my Hourglass and blend out all the edges.
Still Creases:
If you cannot stand it when your concealer creases under your eyes, you might take issue with the Hourglass Vanish Concealer. It does not crease any more so than the Nars, and it does not really bother me: I just blend away the creases with my fingers as they appear throughout the day. But if creasing is your main bugaboo, I would recommend the Benefit Boing! Cakeless Concealer instead. It looked a little dry on my underlies, but it did not crease whatsoever.
Cannot Be Applied Over Powder:
The Hourglass Vanish Concealer looks cakey and dry if you apply it on top of powder. (I recommend Charlotte Tilbury Flawless Finish Setting Powder. Make sure you are signed up for the Sephora Beauty Insider Program because I have seen a deluxe mini of this setting powder as a points reward. Sephora also has events several times a year where Beauty Insiders get discounts.)
For instance, sometimes after I set my under eye concealer with powder, I see that there is still some darkness peeking through. With my Nars Radiant Creamy Concealer I tap on a bit more concealer on top (without dusting extra powder to set). I can also reapply the Nars later in the day if some of my concealer has rubbed off. I tried this with the Hourglass and it looked cakey. So the Nars is better for touch ups after powder.
Excess Product on Tube:
For some reason excess product clumps up on the Hourglass Vanish Concealer tube. It just seems like a waste of product and I expect more from a concealer that costs $34! I think it is due to a design flaw because it occurred on both my tubes immediately after opening.
Conclusion:
I highly recommend trying the Hourglass Vanish Airbrush Concealer. Although it has not totally replaced my beloved Nars Radiant Creamy Concealer. I prefer to use the two concealers in tandem: a first layer of the Hourglass with a Beauty Blender to blur and mattify, and then a top layer of Nars Radiant Creamy Concealer after I set with powder to cover any remaining darkness. For a demonstration of how I use the two concealers together, watch my IGTV video.
xoxo,
You May Also Like