The Best Concealer for Zits
02 • 17 • 2018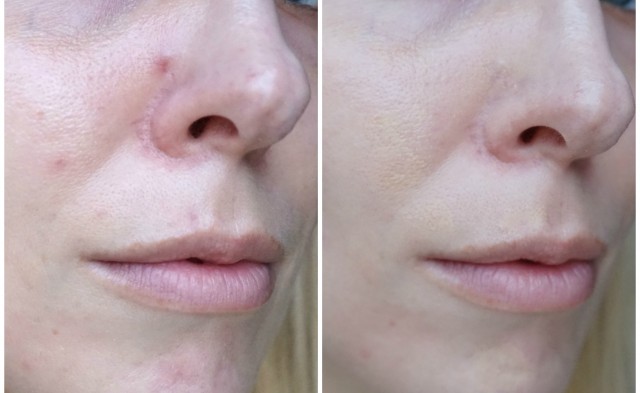 I haven't found a miracle zit killer yet, but luckily (?) the hormonal acne on my face keeps giving me plenty of opportunity to try new spot treatments. In the meantime, however, I did discover the best coverup for zits ever! It also works wonders on those pesky red marks that pimples leave behind. Here is my It Cosmetics Bye Bye Breakout review:
What Is Bye Bye Breakout?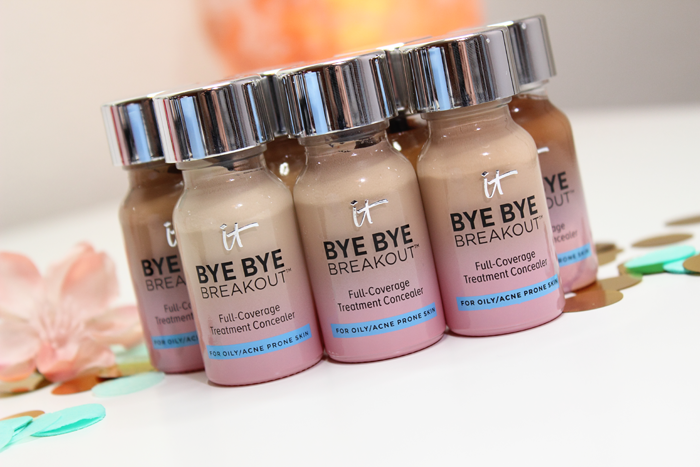 It Cosmetics Bye Bye Breakout is a full-coverage treatment concealer for pimples and the red marks they leave behind (available online only at Sephora or Ulta) . It is my favorite makeup discovery of the past six months (at least!) and I have used it every single day since I purchased it.
Full-coverage pigments effectively conceal the look of pimples, redness, and discoloration without creasing or cracking. Like all the It Cosmetics products (including my beloved CC Cream Illumination), the Bye Bye Breakout was developed with plastic surgeons and is infused with anti-aging peptides and hydrolyzed collagen. The beauty of this incredible concealer is that it also treats the zit while covering it up. Ingredients include oil-absorbing zinc oxide, kaolin clay, witch hazel, tea tree, sulfur and a gentle AHA/BHA complex to clear up the zit quickly without over-drying your skin.
It Cosmetics says that Bye Bye Breakout is perfect for oily and acne-prone skin, but I think it works for all skin types (normal or even dry!) as long as you use it sparingly as a spot treatment just on the zit itself.
Why You Need It:
I had been searching for a great concealer for zits ever since they discontinued my Bobbi Brown one. Like my Bobbi Brown stick cover up, the It Cosmetics contains kaolin clay to dry out the zit. But I like the Bye Bye Breakout even better than my prior favorite. First, it has unbelievably full coverage- no redness shows through at all! The formula is very thin, so while it has amazing coverage, it blends in like a second skin and is nearly undetectable.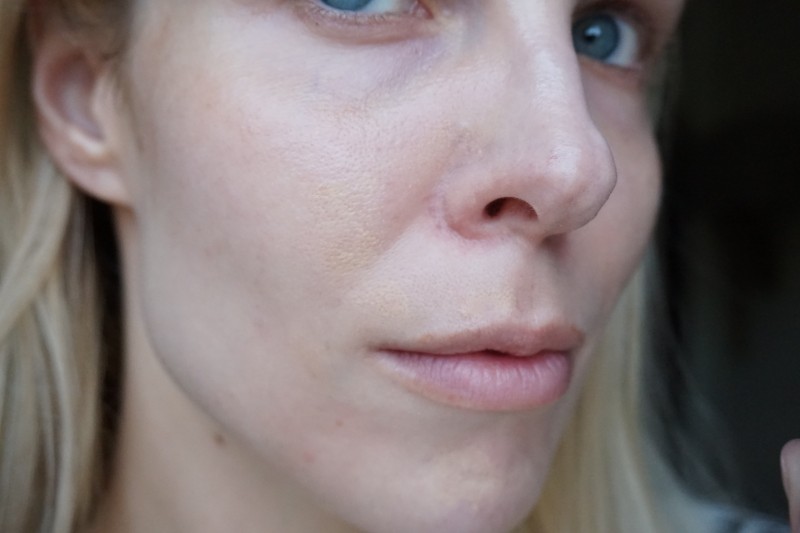 Also it is incredibly matte, which helps blur and minimize the appearance of the giant hill in your skin. Whenever you have radiant or glowy concealers, they make light reflect back off it. Which is great for under eye circles, but for zits, it makes the height and profile of the actual bump stand out more. Because the Bye Bye Breakout is super matte, no light bounces off of it, so the "pimple hill" (I should coin that) is less apparent.
Another reason why Bye Bye Breakout is a new Holy Grail product for me is because it lasts! Concealer never lasts for me around my nose area (I'm either extra-oily there, or I inadvertently wipe it off throughout the day). But once I dab the Bye Bye Breakout on a zit, it doesn't move for the whole day! Best lasting power of any concealer I have tried.
For me, almost the worst part of the zit is that it leaves a flat, red discoloration on my skin for months! But the Bye Bye Breakout is fantastic for covering the redness left behind by a zit. The coverage completely cancels out any redness, and the formula is not overly drying so you can continue using it on the red mark without destroying your skin.
How to Apply: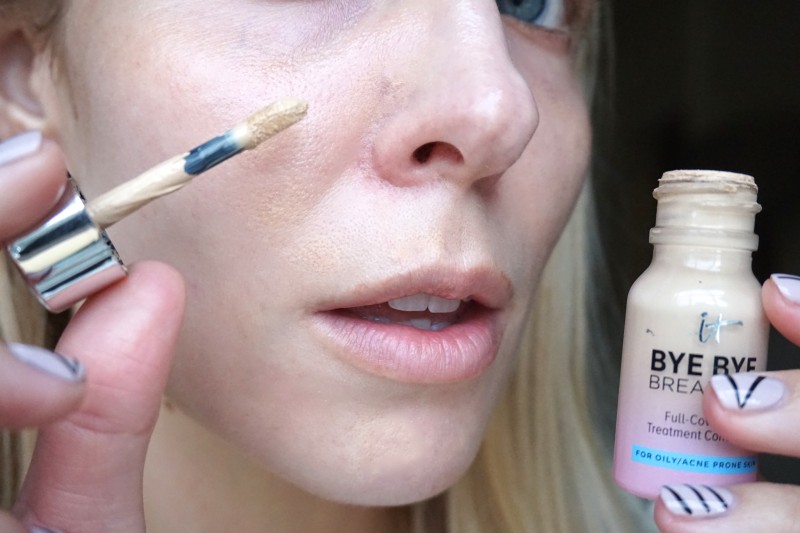 Less is more with this product! You use the small doe-foot applicator to dab the tiniest dot right on top of your pimple or redness, and then lightly tap with your pinky to blend in if needed. This application technique is totally different than how I cover up my under eye circles with my fave Nars Radiant Creamy Concealer. With that, I dab on kind of thick dots, let it set for a minute or so, and then tap in with my ring finger.
With the Bye Bye Breakout, I make sure to almost completely wipe off the applicator on the neck of the bottle. When I first purchased this product, the doe-foot applicator comes out very cleanly, and ensures that you only have the tiniest amount of product left on the applicator. But after you use the product for awhile, more product seems to glom on to the sponge, so you should wipe it off. We want very thin layers applied to the zit- if you apply one thin layer and think you still need more coverage, wait for 30 seconds for the product to dry, and then add another very thin layer. Putting a big dab of the product adds height to the pimple hill and doesn't look like a second skin like multiple thin layers do.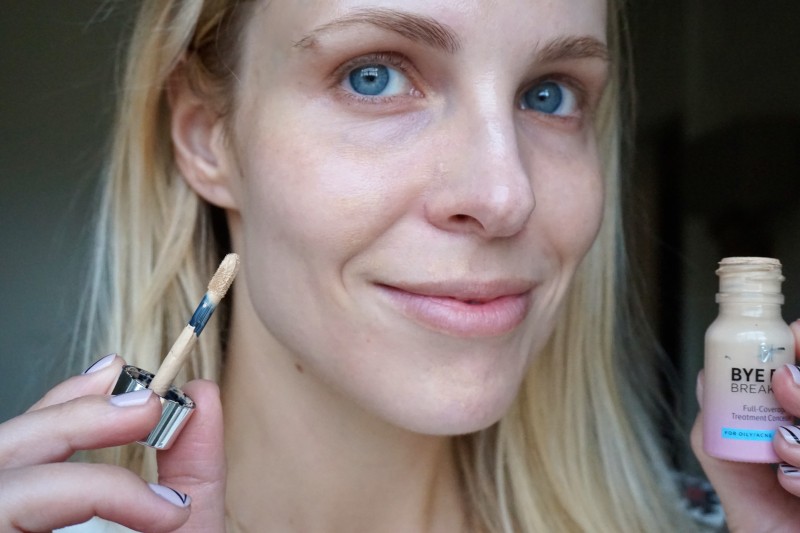 On a typical morning where I drive carpool and then play tennis, I only have on my sunscreen, and then dab the Bye Bye Breakout on zits. This takes out all my red spots and makes my skin look almost flawless! But I also apply it over makeup when I'm doing a full face. When I do my typical everyday look, I use the It Cosmetics CC Cream Illumination in Light, then set with Hourglass Ambient Lighting Powder in Ethereal Light, and then I put the tiny dabs of the Bye Bye Breakout on top. So I put on setting powder BEFORE I put on the zit coverup- the Bye Bye Breakout is so matte and lasts so well that it does not need setting powder, and the powder actually rubs off my precisely applied coverup.
If I'm mostly just hanging around the house, I will apply several thin layers of the Bye Bye Breakout on my zit throughout the day. It is not because the coverage has worn off, but because I feel like it continues to calm and minimize the zit without overly drying the surrounding skin.
As for the shade, I wear the lightest one, Fair (for reference I usually mix the CC Cream Illumination in Light with a tiny bit of regular CC Cream in Fair). I originally bought Bye Bye Breakout in shade Light (the second lightest), and in sunlight it was slightly dark on me. But I could see the amazing coverage and promise for this product right away, so I immediately exchanged it for the Fair shade (after it was FINALLY restocked at my local store). If you are in between shades, I would order both and then see what works and give the other to your slightly paler or darker friend! Because seriously everyone needs a bottle of this miracle worker.
Here's a pic of the final product once I have Bye Bye Breakout plus all my makeup on. On my lips I'm wearing my current fave combo, Charlotte Tilbury Super Cindy with a dab of MAC Frosting (a white lipstick) in the center, topped with MAC Lipglass in Prrrr. The lashes are Loreal Superstar, my go-to mascara for nighttime.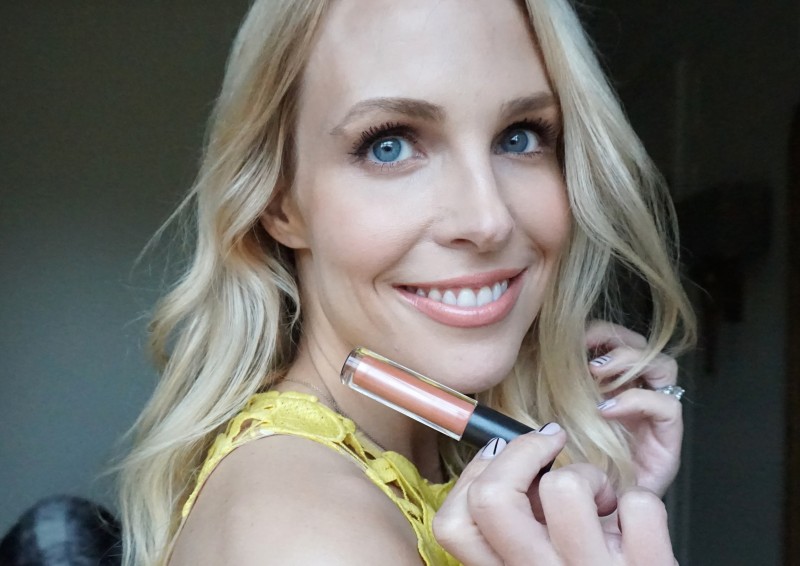 Bottom line: I firmly believe that if you ever get zits, even just occasional ones, you should have Bye Bye Breakout in your makeup arsenal. This product gets an absolute A+, will repurchase rating from me!
xoxo,
@kathleenjenningsbeauty
One response to "The Best Concealer for Zits"
You May Also Like