Makeup Tricks to Look More Awake
03 • 25 • 2017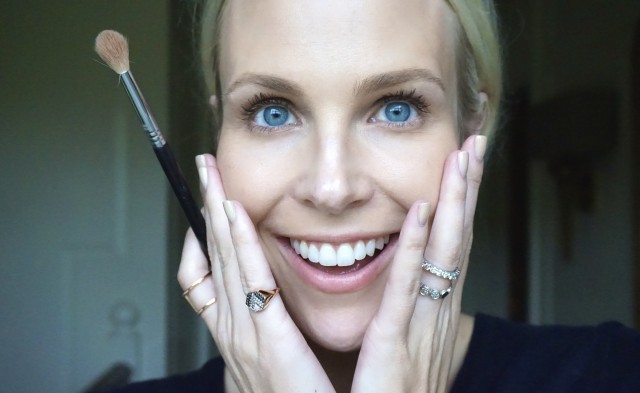 Anyone else still tired from this spring forward nonsense? I don't remember it ever being this hard to adjust. But we women shall bravely soldier on, confronting said arbitrary time change with coffee and concealer in hand. In that vein, I'm talking about three easy makeup tricks to look more awake– using products you already own! And I'm not talking about concealer. Because that would be too obvious.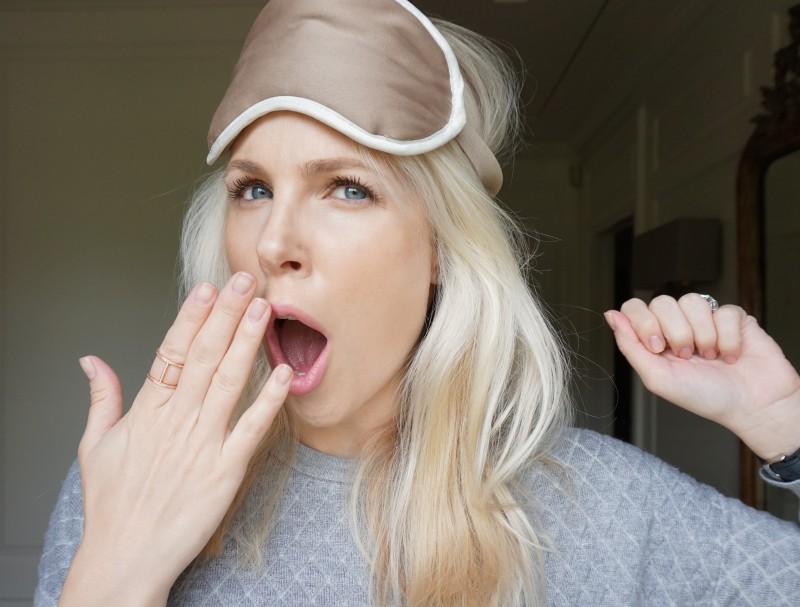 Bronzer in Your Crease
I got this idea after I learned from a makeup artist that the first step to create a smokey eye is to work bronzer into the crease of your eyelid- it helps blend the gradation from the dark eyelid up into the lighter highlight under the eyebrow. That inspired me to sweep bronzer in the crease of my eyelid instead of brown eyeshadow when my eyes are puffy. Bronzer is perfect because it mimics the natural shadow of the eye hollow, as opposed to making an color statement.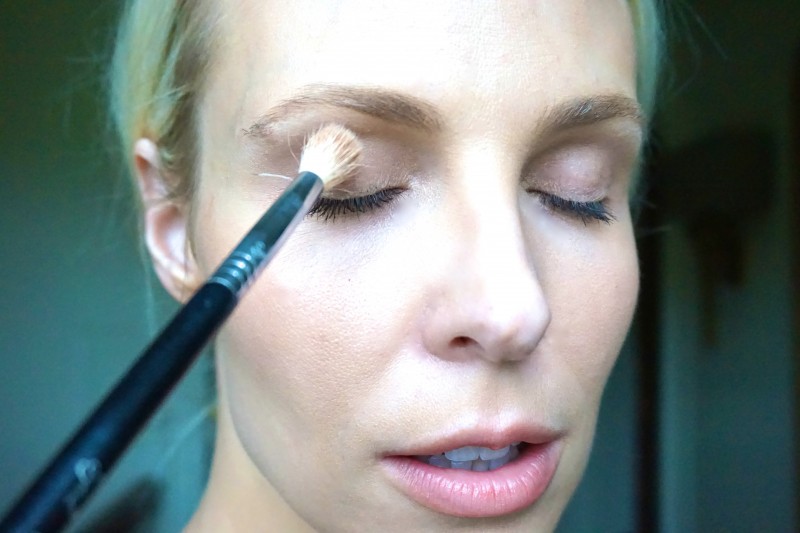 Tired eyelids are naturally more puffy (at least mine are!) Sweep bronzer into the crease of your eyelid in a windshield wiper back and forth motion to add back some depth and dimension and to hollow that puffy area back out. Try it– it really works to open up that puffy eye! My favorite bronzer for my face is Tarte Park Avenue Princess, but it is a little shimmery for the crease trick. Ideally you would use a matte bronzer for the most natural look, so my second favorite bronzer, Too Faced Milk Chocolate actually works better for this purpose.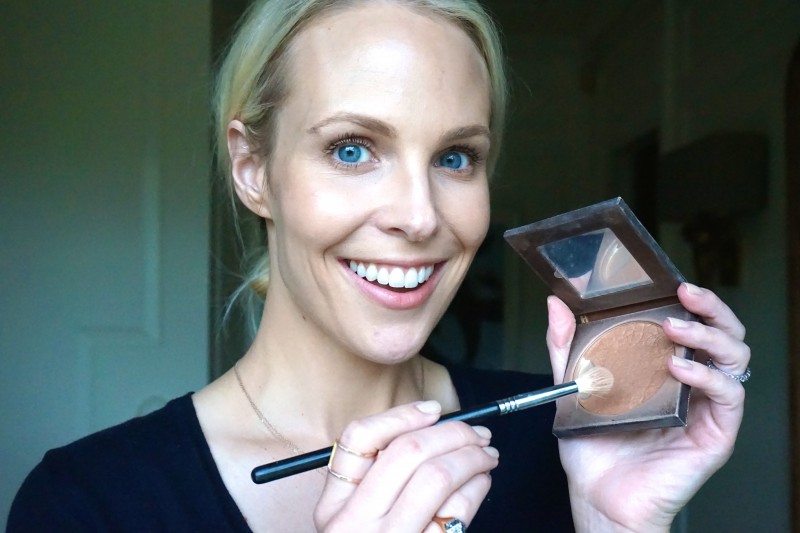 I swear by my cheapo Sigma Tapered Blending Brush to apply my bronzer or really any eyeshadow that I use in my crease. It is the easiest way to create a blended, natural look! Not sure how I put on eyeshadow before I owned that brush.
Highlight Under Your Brow
Putting a light color on your brow bone instantly makes you look more awake and draws the eye upward, creating a lifted appearance. I can't claim that I came up with this trick, but I'm pretty specific about the product I think works best. I think a quick swipe of Benefit High Brow on my brow bone creates the most awake appearance.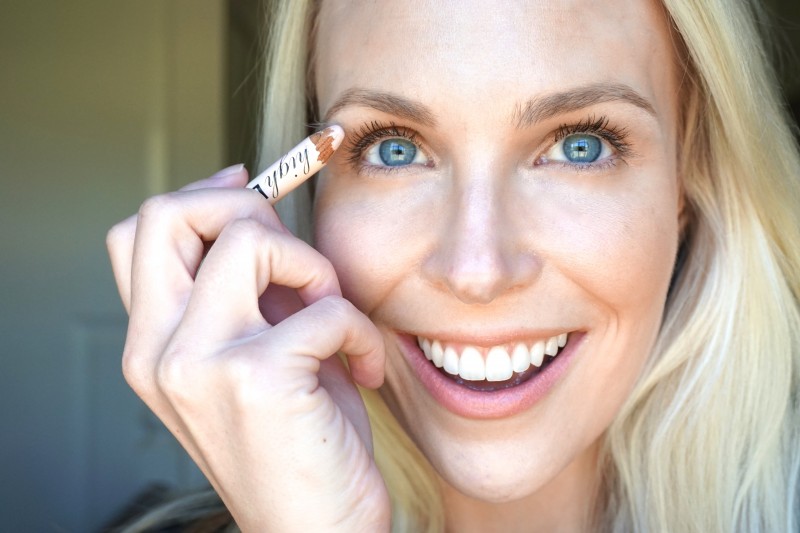 Really you could use any bone or white eyeshadow you already own, or I find that the Urban Decay shadows are very pigmented with little fallout (try Vanilla for light bone shade). But I personally prefer pencils to highlight my brow bone, and sometimes instead of the Benefit High Brow I use a concealer pencil that is lighter than my skin tone (I like the "Brighten" end of the Susan Posnick Colorcorrect pencil, the best concealer pencil on the market. Also available at Kuhl Linscomb in Houston).
I realize that a swipe of the Benefit High Brow is yet another step in a makeup routine you already didn't have time for, but trust me, that one step makes a big difference in making you look more awake! Some makeup pros think that penciling in your brows is the best thing you can do to open up and lift your eye, but I actually think the High Brow makes a bigger difference than defining the brows themselves. Lately for a super quick brow look, I brush Maybelline Brow Precise just on the tails of my brows where they are a little sparse, and then a quick swipe of Benefit High Brow. 30 seconds and I look about 10 times better than I did before.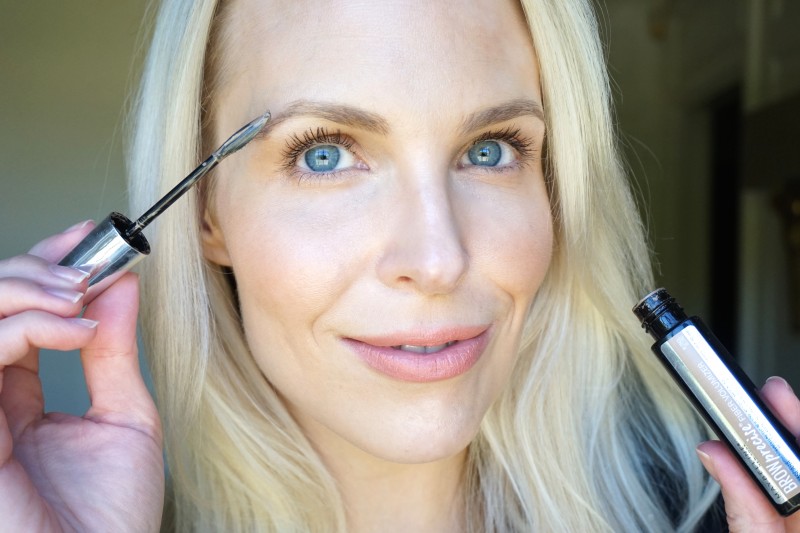 Focus On Your Inner Lashes
It's no secret that curling your lashes and applying mascara can open up your eyes and make you look more awake. But I have a specific mascara technique that will open up your eyes even more. The key is to focus on your inner eyelashes, the ones closest to your nose. Really get down to the root, and try to get them as straight up and down and perpendicular to your face as you can. This creates more of a doe-eyed look, opening up your swollen, tired eyes.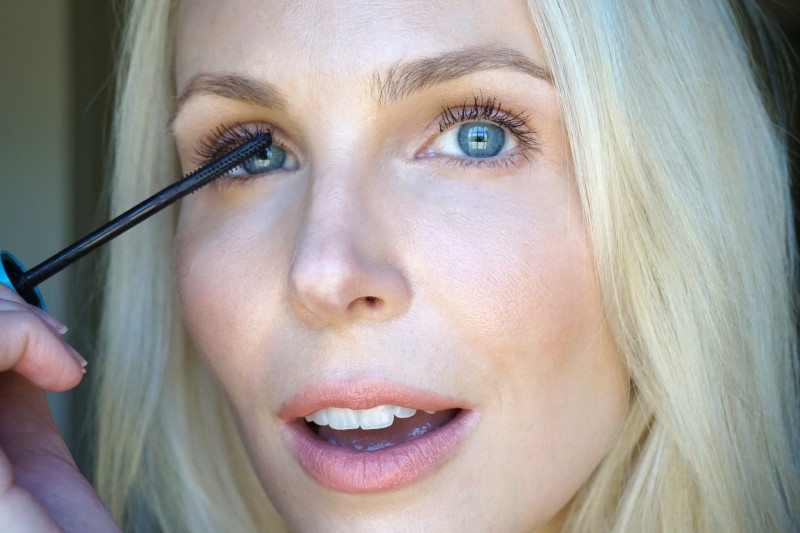 Interestingly this inner lash technique works when you get eyelash extensions too. Tell your technician to apply more lashes to your inner corners– they usually don't proactively do this because it is more difficult to attach extensions to the fine, short inner lashes. But it will make a difference in rounding out and opening up your eye shape.
For mascara, I use Cover Girl The Super Sizer because it lifts and curls your lashes without using an eyelash curler. I've gotten feedback from some readers (including my mom) who said they didn't like my Super Sizer recommendation because it is too goopy. I recommend wiping the excess on the brush on the top of the tube, and I also think that the mascara improves with age. Once the tube has been open for a couple weeks, the formula dries out slightly and it is easier to sculpt those long lashes.
Another mascara that does the lifting, curling thing but isn't quite as goopy is the Estee Lauder Sumptuous Knockout Lift and Fan Mascara. I highly recommend if you don't mind venturing outside the drugstore for mascara. Benefit Roller Lash is great except that it smudges on my eyelids by the end of the day. Also the best eyelash curler is Shu Uemura (even better than the Kevyn Aucoin curler or the Shiseido curler that are also beauty blogger faves).
Let me know if you have any makeup tricks to look more awake! Lord knows I need it. Yawn.
xoxo,
@kathleenjenningsbeauty
One response to "Makeup Tricks to Look More Awake"
You May Also Like