My New Nighttime Routine
04 • 02 • 2018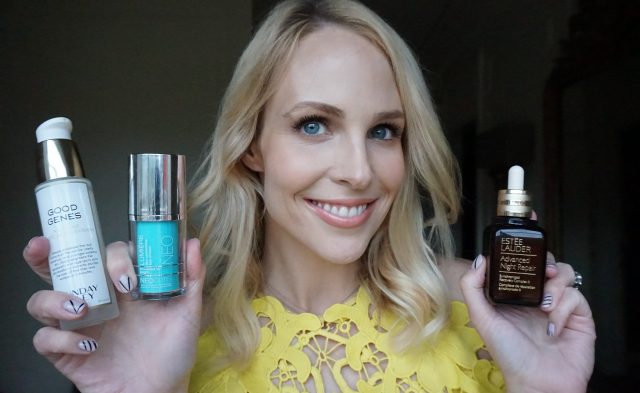 A few weeks ago I published my morning skincare routine and got some requests for my nighttime routine. I have changed things up a bit in the past couple months to deal with two major skincare issues that are currently plaguing me: adult acne and melasma. So here's the companion piece you've been waiting for! Read on for my new nighttime routine:
1) Cleanser
First I cleanse with cheapo Neutrogena Fresh Foaming Face Cleanser, and then follow with Bioderma Micellar Water on a cotton pad. The second cleansing step is critical! You will be surprised how much makeup and dirt is left on your face after your first cleansing with soap and water. If you use an oil balm or oil-based cleanser to wash your face, the micellar water gets rid of any film left on your skin that can cause breakouts.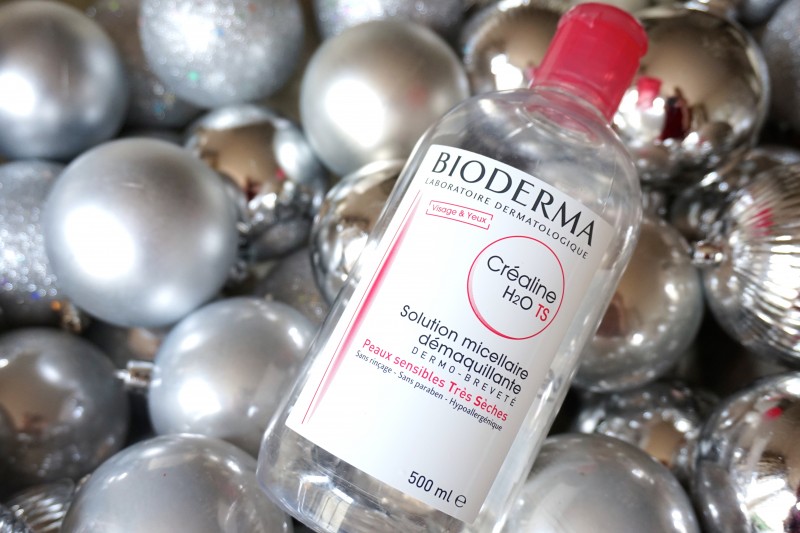 My cleansing routine has stayed basically the same for over a year now. The only thing I've added in is occasionally if I'm wearing a full face of makeup or I feel especially dirty, I will follow the micellar water with the Nip/Fab Glycolic Cleansing Pads. Glycolic Acid is great for evening skin tone (dermatologists recommend glycolic peels to fight melasma), and the exfoliation adds radiance and reduced the appearance of large pores. Certainly there are stronger glycolic acid pads on the market (and I cannot claim to have tried them all), but I like the Nip/Fab ones because they also have hyaluronic acid so they never dry my skin out. To reiterate, this is not an everyday thing; I use them a couple times a week. Probably tonight for me, since I have a full face of church makeup on.
2) Essence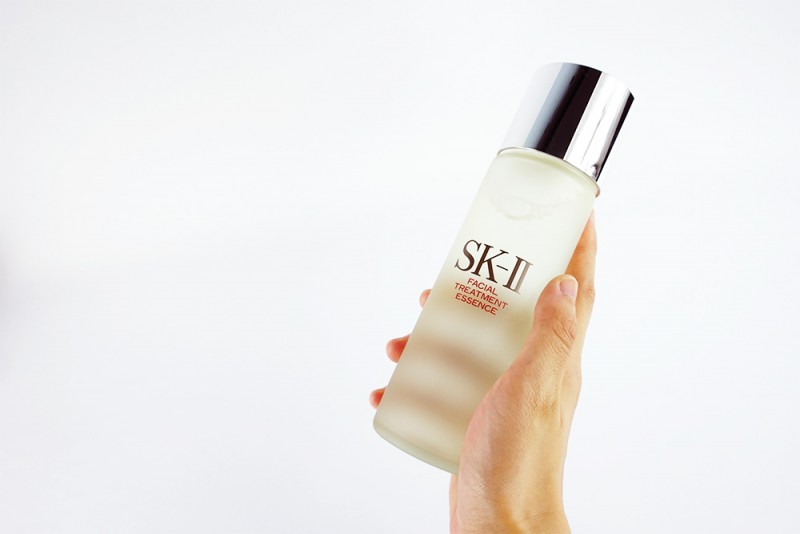 Next I apply SK-II Facial Treatment Essence on clean, dry skin. Essence is an essential step of Asian skincare routines, and I have been using the cult-face SK-II Facial Treatment Essence on and off for about four years now. Lately I was skipping this step, just because the FTE is expensive. But I have a reunion coming up, so recently I started incorpating it back into my nightly routine, and I can totally tell a difference. The essence gives my skin a clarity that no other product has seemed to lend.
As a further testament to FTE, I saw a friend the other day, and asked if she had done a sheet mask that morning. She said, "No, but I started using that SK-II essence and I can totally tell a difference." Application tip: do not waste the product on a cotton pad! I shake a few drops out on the back of my hand, and then pat on my face.
3) Retinoid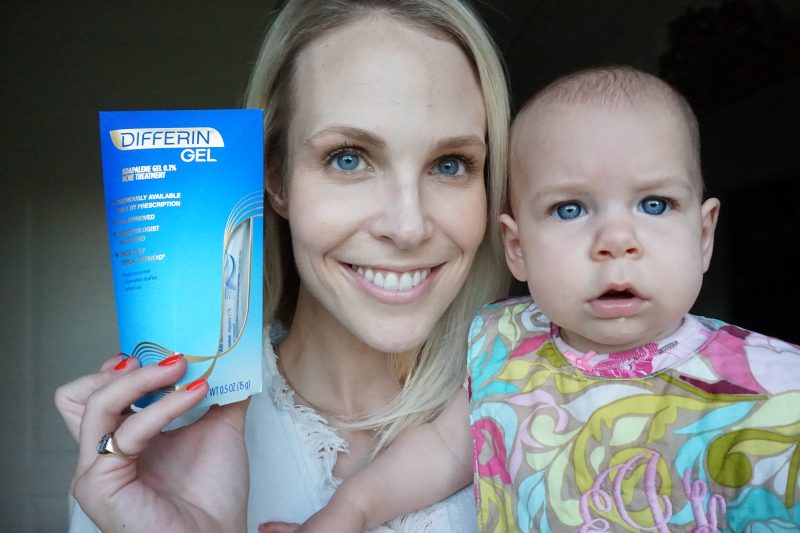 Since I have been struggling with adult acne lately, my dermatologist suggested Veltin, a retinoid mixed with clindamycin (to combat zit-causing bacteria). So I apply Veltin after the SK-II has soaked in, once my skin feels clean and dry again. If you are applying a hydroquinone cream for hyperpigmentation, or any retinoid, this is where it falls in the routine. If you would like to start working a retinoid into your skincare routine for its anti-aging and line-fighting benefits, either ask your dermatologist for Retin-A or Renova prescription, or an over-the-counter alternative is Differin. After years of being prescription only, Differin is now available at Target!
4) Serum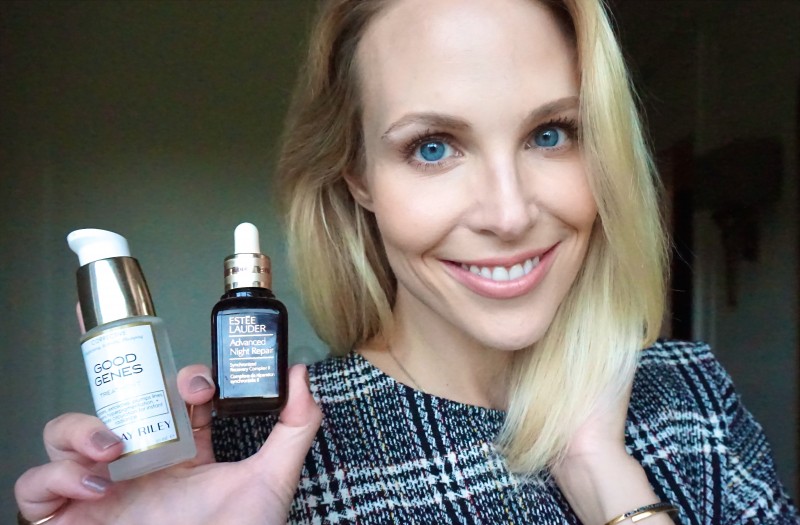 Next I use Estee Lauder Advanced Night Repair Serum all over, including around my eyes. I used to use the Advanced Night Repair only after doing my gloPRO, but since I bought a mega size bottle during the Sephora VIB sale, I have been using it more regularly and I see a big difference in terms of hydration, firming, and glow! It has a very good price point as well, so if you are looking for a basic anti-aging serum that isn't too "active" (as opposed to a resurfacing or brightening serum that has a lot of acid exfoliants), I highly recommend Advanced Night Repair.
I know some of you started using Sunday Riley Good Genes after I recommended it, and I still love that serum as well. However I have not been using it as much lately because I feel like it would be too much exfoliation when combined with my Veltin (retinoid cream). If you are not using a retinoid, though (you must avoid retinoids if pregnant or breast feeding!), I recommend Good Genes for evening skin tone and adding glow. For awhile I was alternating nights too- one night Retin-A and Advanced Night Repair, and the next night just Good Genes. So that's another option if you think a retinoid might be too drying on your skin if used everyday.
5) Eye Cream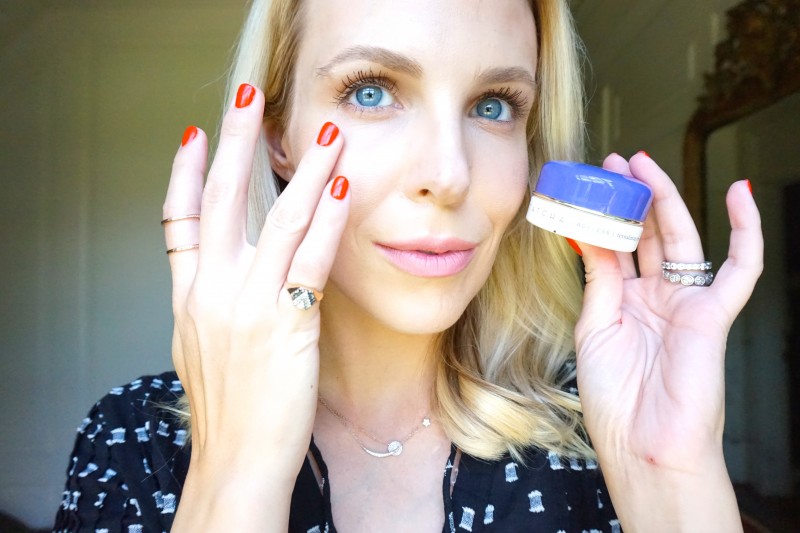 Next is eye cream. Right now I am using Neocutis Lumiere because multiple friends/readers told me it really works on dark under eyes. Too early to tell, but it seems fine so far. Not quite as moisturizing as my previous favorite, Tatcha Eye Cream, but seems to keep crows' feet at bay nonetheless. I mentioned this in my post a couple weeks ago, but my under eye darkness is looking better lately, but I'm not sure how much improvement is due to my me Bright Eye Illuminating Device, and how much I can attribute to the Neocutis.
6) Night Cream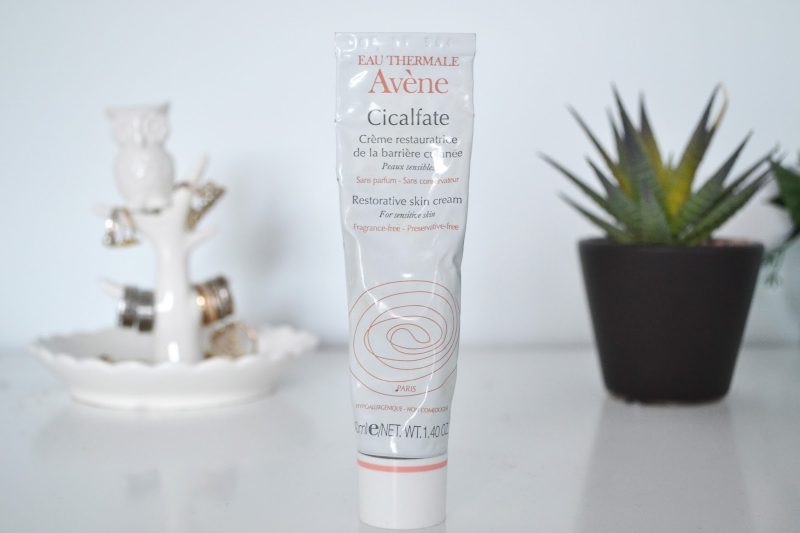 Last I apply a thick moisturizer, the Avene Cicalfate. Since I have been dealing with my cystic acne breakouts, I have struggled to find a night cream that is hydrating enough, yet won't break me out. I was at my wit's end, trying a new cream every few days to try to figure out if that was what was causing the breakouts. Finally I tried the Avene, mostly because it was recommended by my dermatologist, Dr. Jennifer Segal, and I figured if it broke me out, I would have someone to blame. Knock on wood, but my breakouts have not been as frequent. I think it is probably due to the spirolactone pill that has helped my hormonal breakouts, but at least the Avene is wonderfully hydrating and not creating new breakouts. And at a great price point (compared to my previous favorite creams, La Prairie Ice Crystal Cream and Amore Pacific Future Response Age Cream)!
Also, as a small change to my routine, I have stopped using the Mizon Snail Cream at night. I used to use the Mizon Snail Cream at night in lieu of a serum, and then I topped it with a heavier moisturizer. Since I've been using the Advanced Night Repair and the Avene, I felt like that was enough moisture for my skin, so I dropped the Mizon step at night. I do however still use the Mizon in the morning before my Elta MD UV Clear sunscreen. You can read my whole morning routine in this post.
7) Lip Balm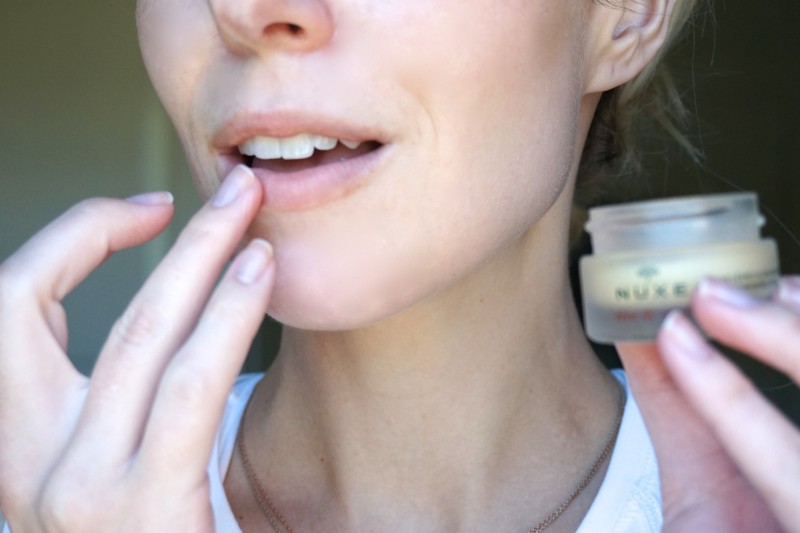 Finally I apply my all-time favorite lip balm, Nuxe Reve de Miel. This culty French import is difficult to find, but it is the only thing that has solved my perpetually dry, flaky lips! Full post about this miracle product here.
Hope everyone had a great Easter with your family!
xoxo,
You May Also Like