Drugstore Finds: My Fave New Lippies!
11 • 05 • 2013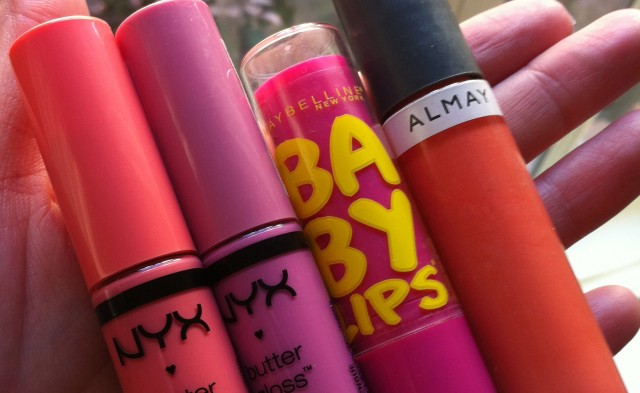 Even though my makeup bag is chock full of Nars, Chanel, and Laura Mercier lipglosses, lately I find myself reaching for these drugstore gems EVERY SINGLE TIME:
From left to right: NYX butter gloss in Maple Blondie and Merengue, Maybelline Baby Lips in Pink Punch, and Almay Color + Care Liquid Lip Balm in Cantaloupe Cream.
A brief review of each one:
NYX Butter Gloss in Maple Blondie: Most poorly named lip shade ever– I was picturing Maple Blondie would be a caramel-type color?  But this is actually an opaque, non-sparkly salmon pink color.  It is a little sticky, but the color is just so great that I bought another shade and have been wearing these every day for over a week.  The Butter Glosses have unusually high color payoff for a gloss- it really shows up!  And it lasts for hours.  Lots of color and super-shiny, these glosses are appropriate for day but also work for dressing up at night.  Here I am in the Maple Blondie shade:
NYX Butter Gloss in Merengue: The tube looks like a tacky purply-pink color, but on your lips it is a very wearable cotton-candy, Barbie pink.  Super, super shiny and lasting.  You can see me in the Merengue shade in a post here.
I'm so obsessed with the NYX Butter Gloss that I just bought a THIRD shade, Tiramisu, which is more of a tawny, caramel nude.  Here I am in Tiramisu with my favorite little pirate for Halloween:
Maybelline Baby Lips in Pink Punch: This is what I reach for at a stoplight in the morning and apply like Chapstick, without looking in a mirror.  Perfect balm-like, moisturizing texture, but in a fun neon bubble gum pink shade that really shows up. I think I'm actually at a stoplight in this picture:
Almay Color + Care Liquid Lip Balm in Cantaloupe Cream: I prefer the texture of the Almay to the NYX– the Almay is a shiny lipgloss (not a "balm" at all), but it moisturizes your lips and does not feel sticky or tacky.  Super comfortable to wear, in a clear melon pink shade. I posted this pic on Instagram (follow me @bookbeautynow) a while ago:
Pick one up on your next grocery store run– a new pink lipgloss is an easy way to brighten your day!
xoxo,
Kathleen
One response to "Drugstore Finds: My Fave New Lippies!"
You May Also Like